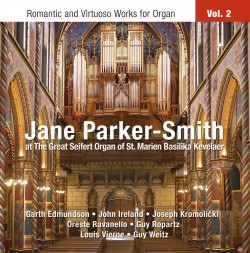 Title:
Romantic and Virtuoso Works for Organ, Volume 2
Artists:
Jane Parker-Smith
at the Great Seifert Organ of St. Merien Basilika Kevelaer
Summary:
In her sequel to Romantic and Virtuoso Works for Organ, Volume 1 (AV 0034), Jane Parker-Smith has assembled an international array of works, largely from the 20th century, by organist-composers from America, Belgium, England, Germany, Italy, and France, including Louis Vierne who, like Jane Parker-Smith's teacher, was blind. Jane was granted a French government scholarship which enabled her to complete her studies in Paris with the legendary Langlais, perfecting the knowledge and understanding of twentieth-century French organ music for which she is now internationally renowned.
About the Seifert organ in the St. Marien Basilika in Kevelaer:
The large Seifert organ in the St. Marien Basilika in Kevelaer was built during the years 1905 to 1907. The instrument contained 113 speaking stops distributed over four manuals and pedal. Situated in the north gallery of the church was an 18-stop antiphonal division (Fernwerk) which was connected electrically.
In 1926, the pneumatic action of the main organ was electrified. At the same time, the specification was enlarged to 131 speaking stops and the present console installed.
In 1944, the instrument suffered heavy war damage. At that time, the basilica was being used as an internment camp. The Fernwerk was completely destroyed. The main organ underwent stopgap repairs in 1946. During the great heat in the summer of 1976, the organ was again heavily damaged. From 1979 to 1981, the instrument was thoroughly overhauled by the company Romanus Seifert in Kevelaer. The visit of Pope John Paul II in 1987 prompted the installation of three horizontal chamade reeds (Tuba magna 16′, Tuba mirabilis 8′ and Cor harmonique 4′) behind the main case. They blend superbly into the tonal scheme of this gigantic symphonic organ.
In 2004, the Fernwerk was rebuilt to the original specification and the console reconstructed and extended with reference to the exemplar of 1926 and equipped with a combination system. An 8′ carillon was placed behind the high altar.
Today, the large Seifert organ in the St. Marien Basilika consists of 135 speaking stops (not counting borrowings) on four manuals and pedal; 14 stops still remain missing. The case with its neo-gothic facade is 14 metres in height, 9 metres in width and 10 metres in depth.
Tracklist:
Garth EDMUNDSON (1900 – 1971)
1. Toccata 'Von Himmel hoch' (4:02)
John IRELAND (1879 – 1962)
2. Elegiac Romance (9:52)
Joseph KROMOLICKI (1882 – 1961)
3. Theme and Variations, Op. 34 (12:54)
Oreste RAVANELLO (1871 – 1938)
4. Adorazione (9:18)
Guy ROPARTZ (1864 – 1955)
5. Introduction et Allegro Moderato (8:50)
Louis VIERNE (1870 – 1937)
6. Romance (Symphonie No. 4, Op. 32) (4:56)
Guy WEITZ (1883 – 1970)
Symphony No. 1
7. I – Regina Pacis (19:13)
8. II – Mater Dolorosa (5:12)
9. III – Stella Maris (7:00)
Total time: 73:45
Recorded 24 – 27 January 2007
Produced and engineered by Roy Emerson
Reviews: