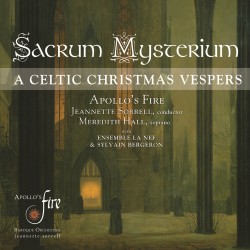 Title:
Sacrum Mysterium: A Celtic Christmas Vespers
Artists:
Apollos Fire
Jeannette Sorrell, harpsichord & conductor
Meredith Hall, soprano
Ensemble Le Nef & Sylvain Bergeron
Summary:
"Oikan ains Bethlehem." With these Gaelic words, a candle is lit, a procession is launched, and a haunting Christmas journey unfolds. Sacrum Mysterium, Apollo's Fire's hugely popular Celtic Christmas program, which premiered in six sold-out concerts in their home base of Cleveland last December, arrives on CD for the 2012 holiday season.
Long before Christianity took hold in Scotland and Ireland, the ancient Celts celebrated the Winter Solstice and the coming of light and hope. The echoes of Paganism still resounded in the 13th and 14th centuries, when faithful Scots sang the Vespers of St. Kentigern, Patron Saint of Glasgow. Jeannette Sorrells new celebration of Celtic artistic traditions interweaves selections from the medieval Vespers of St. Kentigern with ancient pagan carols and popular tunes from 17th-century Welsh and Scottish manuscripts for lute and harp. Joyous fiddle tunes and Irish dances burst forth against the vivid backdrop of the unfolding Christ story. The colorful sounds of antiphonal bagpipes, archlute, harp, percussion, fiddles and recorders are blended in musical arrangements by Sylvain Bergeron and Sorrell. The early-music ensemble La Nef of Montreal joins Apollos Fire for this international collaboration featuring the radiant Canadian soprano Meredith Hall.
Sacrum Mysterium joins Apollo's Fire's critically acclaimed, Billboard chart topping discography on AVIE.
A Limited Edition CD was released with a bonus DVD (AV2269).
Tracklist:
PART I: A LIGHT IN THE DARKNESS
1. PROCESSIONAL: Oikan ayns Bethlehem (The Babe in Bethlehem) (5:44)
2. Duan Nollaig Scottish Gaelic Carol (1:47)
FROM THE VESPERS OF ST KENTIGERN, PATRON SAINT OF GLASGOW
3. Deus in adjutorium – Alleluia Alleluia by Jeannette Sorrell (1:12)
4. Responsorium: Gloria Patri (2:37)
5. Hymnus: Iste confessor Domini (2:29)
6. Alleluia Jeannette Sorrell (1:34)
7. The Road to Lisdoonvarna Traditional Irish jig (1:45)
OFFERTORY & CAROLS
8. Veni, veni, Emmanuel 12th-century carol (3:08)
9. Nowell, Nowell, Tydings Trew 15th-century carol (3:07)
10. Noël nouvelet 15th-century French/Breton carol (2:59)
11. Sussex Carol (On Christmas Night) Traditional English (2:37)
12. Come, My Children Dere (2:56)
13. Wat ye what I got yestreen Skene MS, Scottish, 1715 (3:14)
PART II: SONG OF MARY
14. Taladh Chriosda (Christ Child's Lullaby) Scottish Gaelic lullaby (3:55)
15. Hodie, Christus natus est (1:06)
FROM THE VESPERS OF ST KENTIGERN, PATRON SAINT OF GLASGOW
16. Magnificat anima mea (3:16)
17. Antiphon de Maria ad Vesperas (1:32)
HYMN & CAROLS
18. HYMN: All Sons of Adam, Sing Nowell! (3:10)
19. What Child is This? Tune: My Lagan Love, traditional Irish air (3:40)
20. Usheg veg ruy (Little Red Bird) Manx Gaelic lullaby (3:29)
21. O'Carolan's Cup Turlough O'Carolan (1670–1738) (2:11)
22. O'Carolan's Favorite Jig Turlough O'Carolan (1:41)
23. At Work on the Land/Tatter Jack Walsh (4:01)
24. The Seven Rejoyces of Mary Traditional Irish carol (3:40)
25. POSTLUDE: Christmas Eve Irish reel (2:05)
Total time: 69:04
Recorded 12–14 December 2011, St. Paul's Church, Cleveland Heights, Ohio
Erica Brenner, recording producer & editor
Thomas Knab, recording & mastering engineer