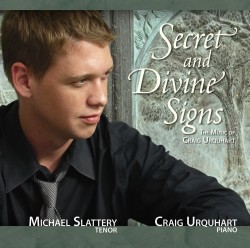 Artists:
Michael Slattery, tenor
Craig Urquhart, piano
Summary:
Beauty and grace: these are the instantly recognizable qualities that imbue Secret and Divine Signs, the young tenor Michael Slattery's disc of exquisite art song by fellow-American Craig Urquhart. The purity of Michael's voice overlays Craig's inspirational marriage of music and poetry by Dickinson, Whitman, Hesse and D H Lawrence. The songs on Secret and Divine Signs, which are interwoven with Craig's refined piano solos, impart an emotional journey of discovery, reflection and anticipation; union, exhilaration and rejection; regret, temptation and sacrifice; memory, solitude and disillusionment; and finally: resurrection, redemption and love.
Michael's collaboration with Craig began after the composer heard him sing Maria from West Side Story in a gala concert in Paris devoted to Leonard Bernstein. Craig, who was Bernstein's long-time musical assistant, realised he was hearing for the first time the voice he had been composing for all along.
Michael Slattery is a Juilliard graduate who has sung with the Philadelphia Orchestra, Los Angeles Philharmonic, Philharmonia Baroque Orchestra, Orchestra of St. Luke's at Carnegie Hall, and Lincoln Center's Mostly Mozart Festival. He made his UK debut in February 2005 singing Candide with the BBC Concert Orchestra. He made his European debut in Paris where he returned in the spring of 2006 to sing the title role in Orfeo with conductor Emmanuelle Haïm at the Chatelet Theatre.
Craig Urquhart's compositions create rich melodic landscapes that blossom into dramatic journeys from the heart. His timeless sound and lyrical personal voice is both a reflection of our time and a commentary on humanity's need for refuge. As Leonard Bernstein wrote: "Craig Urquhart is a truly gifted composer… his tonal approach is…genuinely moving, with a private beauty of its own."
Tracklist:
Craig URQUHART
1. Streamwalker (introduction) (0:52)
2. Here the Frailest of Me (Whitman) (1:55)
3. Sometimes with one I Love (Whitman) (1:46)
4. Astronomer (introduction) (3:28) /
O You whom I often and silently come (Whitman) (1:55)
5. I'll tell you how the sun rose (Dickinson) (1:57)
6. Pas de deux (2:47)
7. Split the Lark (Dickinson) (2:11)
8. Vesper Hymn (3:30)
9. Among the Multitude (Whitman) (2:07)
10. Far From Love (Dickinson) (2:11)
11. Venetian Snowfall (4:45)
12. Sleeping Rose (Draddy) (2:10)
13. The Dalliance of Eagles (3:00)
14. Piano (D. H . Lawrence) (3:54)
15. Across the Fields … (Hesse) (2:02)
16. Secret Spaces (5:40)
17. Adrift, a little boat Adrift! (Dickinson) (2:42)
18. On this Wondrous Sea (Dickinson) (1:49)
19. The Awakening (2:07)
20. It's All I Have to Bring Today (An American Blessing) (Dickinson) (1:23)
Total time: 52:47
Recorded August 2005 at Klavierhaus, New York, New York
Produced by Craig Urquhart, Michael Slattery and Scott Petito
Reviews:
MusicWeb - Read here...