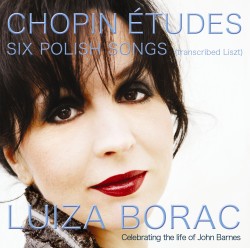 Title:
Chopin: Études; Six Polish Songs (transcribed by Liszt) **
Price:
£7.79 | 40% discount (usual price £12.99)
DOWNLOAD AND STREAM
Summary:
"In these transcriptions Borac plays with lyrical beauty and unaffected poetry, projecting a sensitively-voiced singing line." ★★★★ – BBC Music Magazine
"It is… rare to encounter on disc all six of Liszt's Chopin song transcriptions in sequence. It is even rarer to hear them played quite as well as this, easily the best versions of those currently available, not merely because of the intimacy and easeful rubato Luiza Borac brings to the music but for the lovely recorded sound." – Gramophone
"The Romanian pianist is not just a wow playing her countryman Enescu — she understands Chopin equally well. The Op. 10 and 25 Études are dispatched with subtlety of touch and phrasing. Liszt's transcriptions of Chopin songs serve as a charming introduction." ★★★★ – The Times

Luiza Borac's award-winning discography on AVIE spans music by her compatriot George Enescu back to 19th century masterpieces by Schumann and Liszt. She returns to the Romantic era with a recording of Chopin's groundbreaking Études. These virtuoso works were showcases for Chopin's friendly rival Franz Liszt, who went on to transcribe six of the former's Polish Songs.
For Luiza, this recital has musical as well as personal significance as it pays tribute to her long-time supporter and producer, John Barnes. John was a "renaissance man" – an amateur par excellence. In addition to shepherding Luiza's career, for decades he contentedly sat behind the scenes at the Glyndebourne Festival recording every production for posterity; the fruits of his labour of love are now seeing the light of day on the Festival's own label. Numerous colleagues and associates offer tributes in the CD booklet, including Glyndebourne General Director David Pickard and conductor Vladimir Jurowski. John was a true friend of Avie and introduced several other young artists to the label. Luiza's Chopin was his last studio recording.
Tracklist:
FRANZ LISZT (1811–1886)
Six transcriptions of Polish Songs by Chopin, S.480
1. Życzenie -The Maiden's Wish (Op.74 No.1) (4:16)
2. Wiosna – Spring (Op.74 No.2) (2:48)
3. Narzeczony – The Bridegroom (Op.74 No.15) (1:33)
4. Moja Pieszczotka – My Darling (Op.74 No.12) (4:05)
5. Pierścień – The Ring (Op.74 No.14) (3:07)
6. Hulanka – A Drinking Song (Op.74 No.4) (1:53)
FRÉDÉRIC CHOPIN (1810–1849)
Twelve Études Op. 10
7. No. 1 in C major (2:10)
8. No. 2 in A minor (1:38)
9. No. 3 in E major (4:20)
10. No. 4 in C sharp minor (2:07)
11. No. 5 in G flat major (1:50)
12. No. 6 in E flat minor (3:32)
13. No. 7 in C major (1:45)
14. No. 8 in F major (2:36)
15. No. 9 in F minor (2:12)
16. No. 10 in A flat major (2:24)
17. No. 11 in E flat major (2:34)
18. No. 12 in C minor (2:38)
Twelve Études Op. 25
19. No. 1 in A flat major (2:23)
20. No. 2 in F minor (1:37)
21. No. 3 in F major (2:00)
22. No. 4 in A minor (1:55)
23. No. 5 in E minor (3:16)
24. No. 6 in G sharp minor (2:09)
25. No. 7 in C sharp minor (5:20)
26. No. 8 in D flat major (1:13)
27. No. 9 in G flat major (1:01)
28. No. 10 in B minor (4:27)
29. No. 11 in A minor (3:42)
30. No. 12 in C minor (2:32)
Luiza Borac, piano
Recorded 7 – 10 April 2008 at St. Dunstan's Church, Mayfield, England
Produced, Engineered and Edited by John Barnes