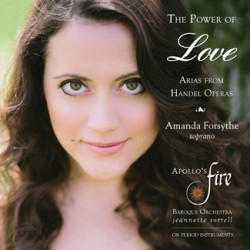 Artists:
Amanda Forsythe, soprano
Apollo's Fire
Jeannette Sorrell, harpsichord / director
Summary:
Love, angst and revenge are the timeless themes of Handel's operas, as brought to vivid life in this recording by the acclaimed baroque orchestra, Apollo's Fire. Grammy Award-winning soprano Amanda Forsythe, described as "simply dazzling" by The New York Times, joins conductor/harpsichordist Jeannette Sorrell to explore the gamut of emotions, from fiery coloratura arias to tragic laments. The recording includes rarely-heard arias and a few favorite chestnuts, drawn from eight of the composer's operas.
Tracklist:
George Frideric Handel (1685 – 1759)
1. Orlando: Amor è qual vento (4:57)
2. Almira: Geloso tormento (7:07)
3. Xerxes: Un cenno leggiadretto (4:23)
4. Terpsichore (Il pastor fido): Chaconne (4:43)
5. Partenope: Qual farfalletta (6:12)
6. Giulio Cesare: Piangerò (7:32)
7. Terpsichore: Entrée (Jalousie) (1:59)
8. Ariodante: Il primo ardor (3:38)
9. Rinaldo: Dunque I lacci/Ah crudel (7:47)
10. Terpsichore: Air (2:30)
11. Alcina: Tornami a vagheggiar (5:11)
12. Teseo: Amarti si vorrei (5:35)
13. Terpsichore: Ballo (1:34)
14. Giulio Cesare: Da Tempeste (6:05)
Total time: 69:20