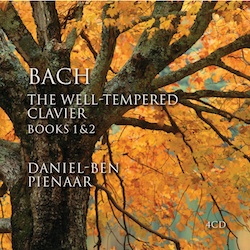 Title:
Bach: The Well-Tempered Clavier (books 1 & 2)
Artists:
Daniel-Ben Pienaar, piano
Summary:
South African-born, London-based pianist Daniel-Ben Pienaar is a completist. He has surveyed, both on the concert platform and in the recording studio, Mozart's Complete Sonatas (AV 2209), Chopin's Complete Waltzes, Schubert's Complete Sonatas, and the complete keyboard works by Orlando Gibbons. For AVIE he has also scaled the heights of Beethoven's Diabelli Variations (AV 2260) and Bach's Goldberg Variations (AV 2235). The Royal Academy of Music professor now adds Bach's Well-Tempered Clavier to the list, enhancing a growing discography that has earned him plaudits from around the world.
Tracklist:
Johann Sebastian Bach (1685–1750)
The Well-Tempered Clavier
48 Preludes & Fugues BWV 846–893
CD 1
Book 1
1–2        No.1 in C, BWV846 (1.23/1.54)
3–4        No.2 in C minor BWV847 (1.49/1.23)
5–6        No.3 in C sharp BWV848 (1.07/2.04)
7–8        No.4 in C sharp minor BWV849 (2.52/3.53)
9–10       No.5 in D BWV850 (0.56/1.35)
11–12     No.6 in D minor BWV851 (1.12/1/31)
13–14     No.7 in E flat BWV852 (3.32/1.36)
15–16     No.8 in E flat minor BWV853 (3.11/3.27)
17–18     No.9 in E BWV854 (1.01/0.51)
19–20     No.10 in E minor BWV855 (1.48/1.00)
21–22     No.11 in F BWV856 (0.52/1.15)
23–24     No.12 in F minor BWV857 (2.00/2.51)
Total time CD 1: 45.41
CD 2
Book 1
1–2        No.13 in F sharp BWV858 (1.43/1.37)
3–4        No.14 in F sharp minor BWV859 (0.50/3.26)
5–6        No.15 in G BWV860 (0.43/2.33)
7–8        No.16 in G minor BWV861 (1.59/1.47)
9–10       No.17 in A flat BWV862 (1.08/2.07)
11–12     No.18 in G sharp minor BWV863 (1.12.2.17)
13–14     No.19 in A BWV864 (1.07/1.39)
15–16     No.20 in A minor BWV865 (1.00/4.12)
17–18     No.21 in B flat BWV866 (1.09/1.30)
19–20     No.22 in B flat minor BWV867 (2.41/3.51)
21–22     No.23 in B BWV868 (0.50/1.47)
23–24     No.24 in B minor BWV869 (5.00/6.45)
Total time CD 2: 53.37
CD 3
Book 2
1–2         No.1 in C BWV870 (2.19/1.17)
3–4         No.2 in C minor BWV871 (1.51/1.49)
5–6        No.3 in C sharp BWV872 (1.37/1.32)
7–8        No.4 in C sharp minor BWV 873 (4.16/1.36)
9–10       No.5 in D BWV874 (2.53/1.40)
11–12     No.6 in D minor BWV875 (1.20/1.24)
13–14     No.7 in E flat BWV876 (2.19/1.12)
15–16     No.8 in D sharp minor BWV 877 (3.10/3.20)
17–18     No.9 in E BWV878 (2.15/3.23)
19–20     No.10 in E minor BWV879 (2.03/2.02)
21–22     No.11 in F BWV880 (2.53/1.33)
23–24     No.12 in F minor BWV881 (3.22/1.28)
Total time CD 3: 53.30
CD 4
Book 2
1–2        No.13 in F sharp BWV882 (3.05/2.21)
3–4        No.14 in F sharp minor BWV883 (3.05/3.31)
5–6        No.15 in G BWV884 (2.14/1.08)
7–8        No.16 in G minor BWV885 (2.59/2.14)
9–10       No.17 in A flat BWV886 (3.20/2.50)
11–12     No.18 in G sharp minor BWV887 (3.25/5.34)
13–14     No.19 in A BWV888 (1.36/1.04)
15–16     No.20 in A minor BWV889 (2.47/1.21)
17–18     No.21 in B flat BWV890 (5.28/2.36)
19–20     No.22 in B flat minor BWV891 (2.32/3.32)
21–22     No.23 in B BWV892 (1.49/3.34)
23–24     No.24 in B minor BWV893 (2.13/1.59)
Total time CD 4: 67.02
Recorded: 16 and 23 April 2013 (Book 1) and 13–15 September 2004 (Book 2),
Duke's Hall of the Royal Academy of Music, London
Producer: Jonathan Freeman-Attwood · Engineer: Kirsten Cowie
Editing maps: Daniel-Ben Pienaar · Editing: Daniel-Ben Pienaar (Book 1), Adam Langston (Book 2) Mastering: Phil Hobbs · Piano technician: Clive Ackroyd