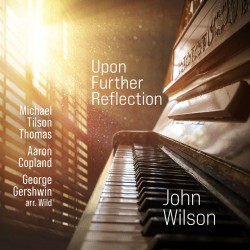 Summary:
> The American Prize: Ernst Bacon Memorial Award for the Performance of American Music
"As if the poignant new piano piece from MTT isn't already enough, Wilson's exemplary, engrossing performances make this album of Americana an easy recommendation … Wilson's wild, thundering performance is one for the books" – American Record Guide
"He brings a wide spectrum of touch and dynamics to the three quasi improvisatory tableaux of Michael Tilson Thomas, which lend their collective title – Upon Further Reflection – to the album. … appealing gravity and circumspection" - Gramophone
"another of the year's excellent piano albums … celebrates both [Michael Tilson Thomas] and his influences"  - The Arts Fuse
"Having been Thomas' protégé and close collaborator, Wilson's ardent, committed, and perceptive interpretations come as no surprise … [he] navigates the outer [Copland] movements' monumental peaks and valleys with requisite power and precision." - Classics Today

The dynamic young American pianist John Wilson first encountered Michael Tilson Thomas in 2015 when he was a fellow with the New World Symphony. John's protégé status quickly evolved to that of close confidant and collaborator, leading to this solo debut album featuring the world-premiere recording of the title track, MTT's three-movement suite for piano, Upon Further Reflection. MTT explains innumerable influences that are embedded throughout the work, including the piano music of Debussy and Schumann, bossa nova, gamelan, ragas, Monteverdi, Berg and Peggy Lee's rendition of the song Alley Cat, all of which "flowed together in a way that seemed completely natural… to me anyway." In 2019, John premiered a portion of Upon Further Reflection that was broadcast live on Medici.TV to an audience of over 50,000.
John embellishes the album's Americana theme with two titans of the solo piano repertoire – Aaron Copland's early Piano Sonata – a work lesser-heard than the composer's other works for solo piano – and Earl Wild's virtuoso arrangements of seven of George Gershwin's most iconic tunes.
Tracklist:
MICHAEL TILSON THOMAS (b. 1944)
Upon Further Reflection
world-premiere recording
1. Bygone Beguine (1973) 6:18
2. Sunset Soliloquy (Whitsett Avenue, 1963) 13:13
3. You Come Here Often? (Hello Stranger, 1977) 4:40
EARL WILD (1915–2010)
7 Virtuoso Etudes after George Gershwin (1898–1937)
4. I. Liza 3:44
5. II. Somebody Loves Me 3:16
6. III. The Man I Love 2:48    SINGLE #2 | AV2536 | 16 September
7. IV. Embraceable You 3:23
8. V. Lady Be Good 3:46
9. VI. I Got Rhythm 2:15
10. VII. Fascinatin' Rhythm 1:40
AARON COPLAND (1900–1990)
Piano Sonata
11. I. Molto moderato 7:58    FOCUS TRACK | 30 September
12. II. Vivace 4:27
13. III. Andante sostenuto 11:42
John Wilson, piano
Recorded: 22–23 June 2021, The Conrad Prebys Performing Arts Center, La Jolla, California
Publishers: Kongcha Music, admin. G. Schirmer Inc. (Tilson Thomas);
Michael Rolland Davis Productions (Wild–Gershwin); Boosey & Hawkes (Copland)
Recording Producers: Elaine Martone, Sonarc Music, John Wilson
Recording Engineer: Loren Stata | Editing & Mixing Engineers: Loren Stata, Sergey Parfenov
Mastering Engineer: Sergey Parfenov | Steinway Piano Technician: Mark Adams
Microphones: Josephson c617, AEA N8 | Preamps: Pueblo Audio JR2/2 | Conversion: Merging Hapi