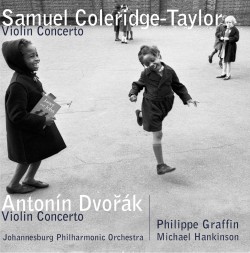 Title:
Coleridge-Taylor • Dvořák: Violin Concertos
Price:
£12.99 (1CD | 24 page booklet)
DOWNLOAD AND STREAM
Summary:
"The resurgence of interest in the music of Samuel Coleridge-Taylor reaches another milestone with this long-overdue first recording of his Violin Concerto. Abetted by polished and passionate playing from the recently formed Johannesburg PO under its British-born chief Michael Hankinson, Philippe Graffin triumphantly demonstrates what an effective, endearing work it is, acutely responsive as he is to its bittersweet lyricism while equally relishing the many opportunities for solo display in both outer movements. The choice of Dvorák's concerto as a coupling would no doubt have pleased Coleridge-Taylor; the Czech master was his favourite composer. Again, there's no missing the wholehearted commitment of all involved … Graffin plays with such vibrant character and imagination, and the whole venture radiates such a life-affirming spontaneity and joy in music-making" – Gramophone, Editor's Choice

Acclaimed violinist and prolific recording artist Philippe Graffin scored a major coup when he unearthed the Violin Concerto of Samuel Coleridge-Taylor, the Afro-English composer whose star has waned since the height of his fame at the turn of the last century, but has rapidly risen again on the strength of this world-premiere recording.
Coleridge-Taylor's education was as English as they come – studying at the Royal College with Stanford alongside such luminaries as Vaughan Williams and Holst – but his most powerful influences were the folk music and poetry of African-Americans and American Indians, reinforced by his first visit to the US in 1900. References to and inspiration from spirituals and slave songs abound in the Violin Concerto, making the coupling of the Violin Concerto by Dvořák, who was equally inspired by American idioms, apt indeed. In fact, the great American violinist Maud Powell who championed Coleridge-Taylor's works and premiered his Violin Concerto in June 1912 – called him the "colored Dvořák". In an interesting twist, the US premiere was nearly derailed when the original parts sank with the Titanic!
Under the inspired direction of British-born conductor Michael Hankinson, the Johannesburg Philharmonic Orchestra is a musical miracle in a country whose national priorities seem a far cry from promoting Western classical music. Established in 2000 by a multi-cultural group of committed musicians, the JPO have created an exciting ensemble whose aims extend to the musical education of their public and, thanks to this recording, resound worldwide. Their motto: "A nation that turns its back on its culture turns its back on itself".
Tracklist:
SAMUEL COLERIDGE-TAYLOR (1875–1912)
Violin Concerto in G minor, Op. 80 (1911)
1. Allegro maestoso – Vivace (11:37)
2. Andante (9:20)
3. Allegro molto (10:28)
ANTONÍN DVOŘÁK (1841–1904)
Violin Concerto in A minor, Op. 53 (1882)
4. Allegro ma non troppo (11:16)
5. Adagio ma non troppo (10:06)
6. Finale (allegro giocoso, ma non troppo) (9:40)
Total time: 62:43
Philippe Graffin, violin
Johannesburg Philharmonic Orchestra
Michael Hankinson, conductor
Recorded 19 and 23 October 2003 (Coleridge-Taylor), 17 October 2003 (Dvořák), Linder Auditorium, University of the Witwatersrand Education Campus, Johannesburg, South Africa
Balance Engineer and Editing: Mark Cheyne