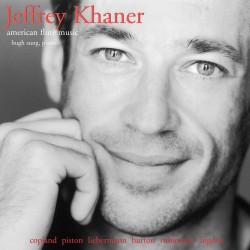 Artists:
Jeffrey Khaner, flute
Hugh Sung, piano
Summary:
Jeffrey Khaner is one of today's most notable orchestral musicians. Principal flautist of the Philadelphia Orchestra since 1990, he has won numerous accolades for his silvery tone, soaring phrases, remarkable breath control and nimble virtuosity. This CD, featuring a diverse collection of accessible American flute sonatas, is Jeff's debut solo recording. Jeff has become particularly associated with American repertoire. He has given several performances of Lowell Liebermann's Flute Concerto and Sonata, the latter with the composer at the piano, at the Pacific Music Festival in Japan, and premiered Ned Rorem's Flute Concerto which was commissioned for him by the Philadelphia Orchestra.
Tracklist:
Eldin BURTON (1913 – 1979)
Sonatina
1. Allegretto grazioso (3:05)
2. Andantino sognando (3:07)
3. Allegro giocoso (2:21)
Aaron COPLAND (1900 – 1990)
Duo for Flute and Piano
4. Flowing (5:42)
5. Poetic, somewhat mournful (4:29)
6. Lively, with bounce (3:27)
Walter PISTON (1894 – 1976)
Sonata for Flute and Piano
7. Allegro moderato e con grazia (4:49)
8. Adagio (4:30)
9. Allegro vivace (3:15)
Beryl RUBINSTEIN (1898 – 1952)
Sonata for Flute and Piano
10. Cheerful, and with motion (5:11)
11. Lyrical, not dragging (5:04)
12. Spirited, and very rhythmic (6:26)
Lowell LIEBERMANN (b. 1961)
Sonata for Flute and Piano
13. Lento con rubato (9:08)
14. Presto energico (3:29)
Jennifer HIGDON (b. 1961)
15. Autumn reflection (5:35)
Total time: 64:49
Recorded November 1997 at Curtis Hall, Philadelphia, Pennsylvania
Producer: Da-Hong Seetoo
Reviews:
MusicWeb - Read here...