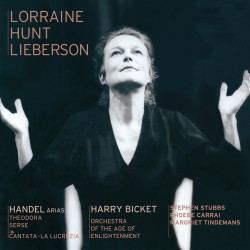 Title:
Arias from Theodora, Serse / Cantata – La Lucrezia
Artists:
Lorraine Hunt Lieberson, mezzo-soprano
Harry Bicket, conductor
Orchestra of the Age of Enlightenment
Summary:
The late Lorraine Hunt Lieberson was one of the finest artists of our time. A sensuous and noble singer, the intensity of her interpretations, particularly in Baroque roles, was supreme. Critics worldwide have grasped for superlatives to describe her art. This CD captured Lorraine's unanimously acclaimed portrayal of Irene in Handel's oratorio Theodora – "one of the most vocally beautiful and dramatically committed characterizations imaginable" according to The Independent on Sunday – which she sang at Glyndebourne, supported by the same forces as here, Harry Bicket and the Orchestra of the Age of Enlightenment. The hybrid SACD technology enhances all the vividness and beauty of Lorraine's exceptional voice. Coupled with arias from Serse, including the evergreen Ombra mai fù, and the cantata La Lucrezia, this CD is one of the great classical releases of our time.
Grammy Nominee
Tracklist:
George Frideric HANDEL (1685 – 1759)
Theodora *
1. Recit Ah! Whither should we fly, or fly from whom? (0:49)
2. Aria As with rosy steps the morn (8:19)
3. Recit O bright example of all goodness! (0:31)
4. Aria Bane of virtue, nurse of passions (6:11)
5. Recit The clouds begin to veil the hemisphere (0:48)
6. Aria Defend her Heav'n! (5:38)
7. Aria Lord, to Thee each night and day (6:06)
8. Recit She's gone, disdaining liberty and life (0:49)
9. Aria New scenes of joy (5:35)
La Lucrezia +
10. Recit O Numi eterni! O stelle, stelle! (1:12)
11. Aria Già superbo, del mio affano (5:33)
12. Recit Ma voi forse nel cielo (1:04)
13. Aria Il suol che preme, l'aura che spira (3:40)
14. Recit Ah! che ancor nell'abisso (1:45)
15. Aria Alla salma infedel porga la pena (4:08)
16. Recit A voi, a voi, padre, consorte (1:24)
17. Arioso Già nel seno comincia a compir (2:05)
Serse *
18. Aria Se bramate d'amar, chi vi sdegna (6:39)
19. Recit Frondi tenere e belle (0:45)
20. Aria Ombra mai fù (3:09)
Total time: 67:01
* Harry Bicket, Orchestra of the Age of Enlightenment
+ Harry Bicket – harpsichord and chamber organ / Stephen Stubbs – lute and baroque guitar / Phoebe Carrai – cello / Margriet Tindemans – viola da gamba
* Recorded 24 and 26 August 2003, Blackheath Halls, London
+ Recorded 18 – 21 March 2004, Concert Hall of the King Center at the Auraria Higher Education Center, Denver, Colorado
Recording Producer: Nicholas Parker
Recording Engineer and SACD Mastering: Everett Porter (Polyhymnia International)
Reviews:
MusicWeb - Read here...