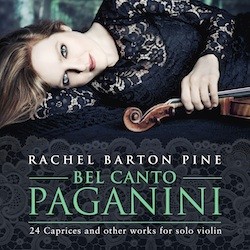 Title:
Bel Canto Paganini – 24 Caprices and other works for solo violin **
Price:
£11.69 (2 CDs) | 40% discount (usual price £19.49)
DOWNLOAD AND STREAM
Summary:
Billboard chart-topping violinist Rachel Barton Pine traverses Paganini's ground breaking set of 24 Caprices with virtuosic flair and, in equal measure, reverence for the bel canto – or "beautiful singing" – style of the composer's generation. Playing on the 'ex-Bazzini, ex-Soldat' Guarneri del Gesù violin from 1742 – made by the same Cremona-based maker in the same year as Paganini's own violin – Rachel channels the composer's own technical wizardry as well as his love for beautiful melodies.
Rachel was first introduced to Paganini's Caprices at the age of six. In her early 20s she gave her first performance of all 24 Caprices in a single concert, a feat she has accomplished several times since including at the National Gallery in Washington D.C. and the Ravinia Festival.
Rachel fills out this two-album set with other pyrotechnical works by Paganini, including his "Duet for One", Caprice d'adieu and the Introduction and Variations on 'Nel cor più non mi sento' from Giovanni Paisiello's
 opera La molinara. Inspired by Paganini's legacy of virtuosic themes and variations, Rachel concludes the set with her own Introduction, Theme and Variations on 'God Defend New Zealand', written in 2000 for the final concert of her first tour of that country.
Paganini dedicated his 24 Caprices "to all the artists." Rachel in turn dedicates this recording "to all the listeners," of which there will be legions.
Tracklist:
NICOLO PAGANINI (1782–1840)
CD 1
1. Introduction and Variations on "Nel cor più non mi sento" from Paisiello's La molinara [12:57]

24 Caprices for solo violin, op. 1
2. Caprice in E Major, Op. 1, No. 1 (Andante) [1:52]
3. Caprice in B Minor, Op. 1, No. 2 (Moderato) [4:14]
4. Caprice in E Minor, Op. 1, No. 3 (Sostenuto – Presto – Sostenuto) [3:19]
5. Caprice in C Minor, Op. 1, No. 4 (Maestoso) [10:43]
6. Caprice in A Minor, Op. 1, No. 5 (Agitato) [3:02]
7. Caprice in G Minor, Op. 1, No. 6 (Lento) [8:07]
8. Caprice in A Minor, Op. 1, No. 7 (Posato) [7:54]
9. Caprice in E-flat Major, Op. 1, No. 8 (Maestoso) [5:43]
10. Caprice in E Major, Op. 1, No. 9 (Allegretto) [3:13]
11. Caprice in G Minor, Op. 1, No. 10 (Vivace) [2:56]
12. Caprice in C Major, Op. 1, No. 11 (Andante – Presto – Andante) [4:27]
13.Caprice in A-flat Major, Op. 1, No. 12 (Allegro) [4:55]
Total time CD 1: 73:24
CD 2
1. Caprice in B-flat Major, Op. 1, No. 13 (Allegro) [2:44]
2. Caprice in E-flat Major, Op. 1, No. 14 (Moderato) [2:04]
3. Caprice in E Minor, Op. 1, No. 15 (Posato) [2:58]
4. Caprice in G Minor, Op. 1, No. 16 (Presto) [1:28]
5. Caprice in E-flat Major, Op. 1, No. 17 (Sostenuto – Andante) [3:47]
6. Caprice in C Major, Op. 1, No. 18 (Corrente – Allegro) [2:31]
7. Caprice in E-flat Major, Op. 1, No. 19 (Lento – Allegro assai) [3:10]
8. Caprice in D Major, Op. 1, No. 20 (Allegretto) [3:09]
9. Caprice in A Major, Op. 1, No. 21 (Amoroso – Presto) [3:27]
10. Caprice in F Major, Op. 1, No. 22 (Marcato) [3:03]
11. Caprice in E-flat Major, Op. 1, No. 23 (Posato) [5:44]
12. Caprice in A Minor, Op. 1, No. 24 (Quasi Presto) [4:25]
13. Duet for One (Adagio – Allegro molto) [2:45]
14. Caprice d'Adieu (Allegro moderato) [3:08]
14. Introduction, Theme and Variations on "God Defend New Zealand" [4:43]
Total time CD 2: 49:11
Rachel Barton Pine, violin
Recording: Aug 31, Sept. 1 – 3, Sept. 5, 2015; November 28, 29, December 1, 2, 2016, St. Paul United Church of Christ, Chicago
Recording producer: Tim Martyn | Recording engineer: Bill Maylone | Editing: Stewart French