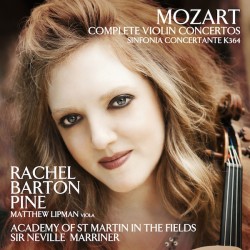 Title:
Complete Violin Concertos, Sinfonia Concertante K364
Artists:
Rachel Barton Pine
Matthew Lipman
Sir Neville Marriner
Academy of St. Martin in the Fields
Summary:
In celebration on Mozart's birthday on January 27 and Sir Neville Marriner's 90th year, Billboard chart-topping violinist Rachel Barton Pine performs the five Mozart Violin Concertos, as well as the Sinfonia Concertante, with the Sir Neville Marriner and the Academy of St Martin in the Fields. The CD is Pine's first record with AVIE records and marks the recording debut of violist Matthew Lipman, a Rachel Barton Foundation recipient.
Pine continues to perform the complete five Mozart Violin Concertos in a single evening's concert and feels that playing them as a cycle has deepened her relationship with them. She has drawn on a tremendous amount of research in crafting her interpretation. Her study of the composer's operas strengthened her appreciation for the drama and playfulness of Mozart's violin concertos, and she highlights the subtle nuaces of the concerti's ever-changing dialogue in her performance. Pine revels in Mozart's gift for improvisation, particularly in the little variations in the repeating rondo theme in the last movement of the A major concerto.
Tracklist:
Wolfgang Amadeus Mozart (1756–1791)
CD 1
Violin Concerto No. 4 in D, K218
1.  I. Allegro (8.39)
2.  II. Andante cantabile (6.28)
3.  III. Rondeau: Andante grazioso – Allegro 
ma non troppo (7.20)
Violin Concerto No. 1 in B flat, K207
4.  I. Allegro moderato (6.56)
5.  II. Adagio (7.51)
6.  III. Presto (5.45)
Violin Concerto No. 3 in G, K216
7.  I. Allegro (9.38)
8.  II. Adagio (8.19)
9.  III. Rondeau: Allegro (6.35)
Total time CD 1: 67.35
CD 2
Violin Concerto No. 5 in A, K219
1.  
I. Allegro aperto (9.37)
2.  II. Adagio (9.37)
3.  III. Rondeau: Tempo di menuetto (8.35)
Violin Concerto No. 2 in D, K211
4.  I. Allegro moderato (9.27)
5.  II. Andante (7.11)
6.  III. Rondeau: Allegro (4.23)
Sinfonia concertante in E flat, K364
7.  
I. Allegro maestoso (13.13)
8.  II. Andante (10.49)
9.  III. Presto (6.29)
Total time CD 2: 79.24
Recorded 29 August–2 September 2013, Air Lyndhurst Studios, London
Producer: Andrew Keener
Recording engineer: Simon Eadon
Editing: Stephen Frost
Assistant engineer: Adam Miller
Violin: Guarneri 'del Gesu', Cremona, 1742, the 'ex-Bazzini, ex-Soldat'
Violin strings: Vision Titanium Solo by Thomastik-Infeld
Violin bow: Dominique Pecatte
Viola: Matteo Goffriller, 1700, on generous loan from the Rachel Elizabeth Barton Foundation
Cadenzas for K211, K216, K218, and K219 are published in The Rachel Barton Pine Collection, Carl Fischer, 2009