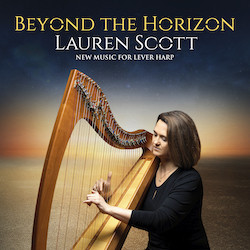 Title:
Beyond the Horizon: New Music for Lever Harp
Summary:
Lauren Scott's passion for the lever harp inspires her interpretations of atmospheric works by 20th century composers ranging from John Cage and Peter Maxwell Davies to Lennon & McCartney, as well as her own ambient compositions. Beyond the Horizon, Lauren's debut solo album, casts a twilight glow on the unique qualities of the traditional lever harp – also referred to as the Celtic harp – and the kaleidoscopic colours it produces, sonorities that Lauren enhances with extended techniques including note bending and percussive effects in her own music. The result is a beautiful and distinctive album with broad appeal.
Born in Australia, UK-based Lauren performs with many of the country's leading orchestras, in West End shows, on commercial recordings, and for radio and TV. Active in the international harp community, Lauren actively fosters the next generation of harp players, and has had her music published and performed world-wide.
Tracklist:
Lauren Scott (b. 1970)
1. Elegy (4:46)
from Adventures for Lever Harp
2. Free Running (Book 2) (2:00)
3. Blue Moon Rising (Book 2) (3:28)
4. First Flight of Spring (Book 1) (2:39)
5. Douwe Eisenga (b. 1961) For Mattia (8:02)
6. Monika Stadler (b. 1963) Away for a While from New Shoots – Old Roots (4:14)
7. Lauren Scott Gypsy Dance from Adventures for Lever Harp, Book 2 (3:39)
8. John Cage (1912 – 1992) In a Landscape (8:38)
9. Peter Maxwell Davies (1934 – 2016) Farewell to Stromness (4:10)
Lauren Scott
10. Beyond the Horizon (4:25)
11. Celestial Spirals (4:18)
12. John Lennon (1940 – 1980) and Paul McCartney (b. 1942) arr. Lauren Scott Across the Universe (4:22)
13. Lauren Scott Crepuscule from Adventures for Lever Harp, Book 2 (6:14)
Recorded 6 – 9 August 2019, Studio 43, Manchester
Recorded, Produced and Engineered by Rob Buckland