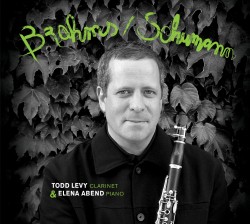 Title:
Brahms Sonatas / Schumann Romances, Fantasiestücke
Artists:
Todd Levy, clarinet
Elena Abend, piano
Summary:
Avie's association with the Milwaukee Symphony Orchestra has produced the holiday favourite Hansel and Gretel (AV 0050). In this release the orchestra's principal clarinettist, Todd Levy, steps out of the ensemble and into the spotlight with some of the most appealing romantic music for his instrument: Brahms' two lyrically effortless Clarinet Sonatas, Schumann's Fantasiestücke – the only work he composed expressly for clarinet – and Three Romances, an 1849 Christmas present for his wife Clara. This is Todd's solo debut disc, but his soulful timbre is not new to afficianados. He appears on two Grammy-winning recordings, the Orpheus Chamber Orchestra's Shadow Dances-Stravinsky Miniatures (1991) and Renee Fleming's Bel Canto (2003). He also contributed the opening clarinet flourish to the 1999 recording of Gershwin's Rhapsody in Blue with the Eos Orchestra on the Classic fM label, which was given a coveted rosette by the Penguin Guide to Compact Discs.
Tracklist:
Johaness BRAHMS (1833 – 1897)
Sonata for Clarinet and Piano No. 1 in F minor, Op. 120, No. 1
1. I Allegro appassionato (8:54)
2. II Andante un poco adagio (5:34)
3. III Allegretto grazioso (4:24)
4. IV Vivace (5:48)
Sonata for Clarinet and Piano No. 2, in Eb Major Op. 120, No. 2
5. I Allegro amabile (8:42)
6. II Allegro appassionato (5:47)
7. III Andante con moto – Allegro – Più tranquillo (7:41)
Robert SCHUMANN (1810 – 1856)
Romances for Clarinet and Piano, Op. 94
8. I Nicht schnell (3:29)
9. II Einfach, innig (4:10)
10. III Nicht schnell (5:02)
Fantasy Pieces for Clarinet and Piano, Op. 73
11. I Zart und mit Ausdruck (2:57)
12. II Lebhaft, leicht (3:46)
13. III Rasch und mit Feuer (4:29)
Total time: 70:47
Recorded 23 – 25 May 2005, in the Helen Bader Concert Hall at the Helene Zelazo Center for the Arts at the University of Wisconsin-Milwaukee, USA
Producer: Evans Mirageas
Recording Engineer: Dan Gnader, eDream Studios
Reviews:
MusicWeb - Read here...