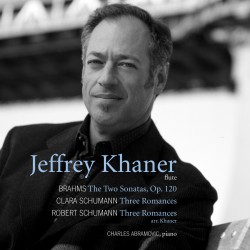 Title:
Brahms Sonatas, Schumann Romances
Artists:
Jeffrey Khaner, flute
Charles Abramovic, piano
Summary:
Jeffrey Khaner, principal flautist of the Philadelphia Orchestra since 1990, is one of today's most distinguished orchestral musicians. He is also a commanding soloist. This recording, his fourth solo CD for Avie, demonstrates his skills as an arranger as well, as he turns his attention to Brahms' beloved Sonatas originally written for clarinet, later transcribed for viola by the composer. Khaner's endeavours mirror Brahms' own aims: to ensure wider dissemination of the music by adapting it to different instruments. The ingenious fillers are Khaner's transcriptions of a pair of Three Romances, a set each by Robert and Clara Schumann, close friends of Brahms'. These unabashedly romantic works lend themselves perfectly to the flute and to Jeff's masterful interpretations.
Tracklist:
Johannes BRAHMS (1833 – 1897)
Sonata for Flute and Piano, Op. 120, No. 1 in F minor (21:17)
1. Allegro appassionato (7:25)
2. Andante un poco Adagio (4:57)
3. Allegretto grazioso (4:00)
4. Vivace (4:55)
Sonata for Flute and Piano, Op. 120, No. 2 in E-flat major (20:31)
5. Allegro amabile (8:23)
6. Allegro appassionato (5:17)
7. Andante con moto (6:51)
Clara SCHUMANN (1819 – 1896)
Three Romances, Op. 22 (8:59)
8. Andante molto (2:57)
9. Allegretto, mit zartem Vortrage (2:33)
10. Leidenschaftlich schnell (3:29)
Robert SCHUMANN (1810 – 1856)
Three Romances, Op. 94 (11:00)
11. Nicht schnell (3:02)
12. Einfach, innig (3:49)
13. Nicht schnell (4:09)
Total time: 61:55
All arrangements by Jeffrey Khaner
Recorded January 2004, Curtis Hall, Philadelphia, Pennsylvania
Producer and engineer: Da-Hong Seetoo
Reviews:
MusicWeb - Read here...