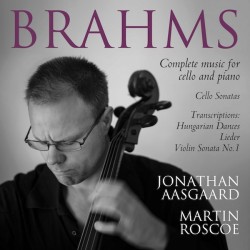 Title:
Complete Music for Cello and Piano
Artists:
Jonathan Aasgaard, cello
Martin Roscoe, piano
Summary:
Principal cellist of the Royal Liverpool Philharmonic Orchestra, Jonathan Aasgaard is an equally distinguished soloist as well as a notable arranger, talents in evidence on his previous AVIE release, From Jewish Life (AV 2149) on which he solos in Bloch's Schelomo and Bruch's Kol Nidrei, and his own arrangement of Bloch's Prayer. His new 2-CD set of the complete works for cello and piano by Brahms includes the composer's Sonatas as well as arrangements of the popular Hungarian Dances, a selection of Lieder, the First Violin Sonata, and the Andante from his Second Piano Concerto. His superb partner is pianist Martin Roscoe.
Tracklist:
Johannes Brahms (1833–1897)
CD 1
Cello Sonata No.1 in E minor, Op. 38
1. I. Allegro non troppo (14.39)
2. II. Allegretto quasi menuetto (5.31)
3. III. Allegro (6.51)
Cello Sonata No.2 in F, Op. 99
4. I. Allegro vivace (8.57)
5. II. Adagio affettuoso (7.41)
6. III. Allegro passionato (7.01)
7. IV. Allegro molto (4.32)
8. F-A-E Scherzo (arr. Watson Forbes) (5.44)
Total time CD 1: 61.32
CD 2
Violin Sonata No.1 in G, Op. 78 (arr. Brahms)
1. I. Vivace ma non troppo (12.04)
2. II. Adagio – Più andante – Adagio (8.50)
3. III. Allegro molto moderato (8.57)
Hungarian Dances (arr. Alfred Piatti)
4. No. 1 in G minor (3.38)
5. No. 2 in D minor (3.33)
6. No. 5 in F sharp minor (2.48)
7. No. 6 in D flat (3.29)
8. No. 7 in A (2.19)
Lieder
9. Feldeinsamkeit Op. 86, No. 2 (3.14)
10. Wie Melodien zieht es mir Op. 105, No. 1 (1.54)
11. Sapphische Ode Op. 94, No. 4 (2.18)
12. Wiegenlied Op. 49, No. 4 (1.35)
13. Liebestreu Op. 3, No. 1 (2.16)
14. Minnelied Op. 71, No. 5 (2.16)
15. Andante from Piano Concerto No. 2 in B major, Op. 83 (arr. Cord Garben) (8.03)
Total time CD 2: 68.21
Recorded The Friary, Liverpool
Producers: Michael Ogonovsky (Op.38, Op.78, Op.99); Andrew Cornall & Jonathan Aasgaard
Sound engineer: David A Pigott