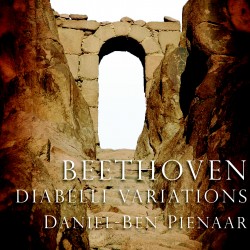 Title:
Diabelli Variations, Six Bagatelles
Artists:
Daniel-Ben Pienaar, piano
Summary:
Daniel-Ben Pienaar "makes the Goldbergs sound more like that other supreme set of variations, Beethoven's Diabelli Variations, than any other pianist has." An appropriate observation from BBC Music Magazine, as Pienaar follows his acclaimed recording of Bach's groundbreaking Goldbergs (AV 2235), by scaling the heights of Beethoven's monumental 33 Variations on a waltz by Anton Diabelli. Variously called "the greatest set of variations ever written" and "the greatest of all piano works", this late work is one of Beethoven's most adventurous, suitably challenging for Pienaar's technical wizardry and probing intellect. He compliments the set with Beethoven's last great work for solo piano, the Bagatelles, Op. 126, which themselves are no mere trifles. As with his previous releases, Pienaar contributes in-depth notes which delve deeply into the music's enigmas. Combined with his sometimes provocative, always enlightening interpretations, Pienaar has once again created a highly satisfying release.
Tracklist:
Ludwig van BEETHOVEN (1770–1827)
33 Variations on a Waltz by Anton Diabelli in C, Op. 120
1 Tema: Vivace (0:49)
2 Variation I: Alla marcia maestoso (1:49)
3 Variation II: Poco allegro (0:44)
4 Variation III: L'istesso tempo (1:07)
5 Variation IV: Un poco più vivace (0:56)
6 Variation V: Allegro vivace (0:50)
7 Variation VI: Allegro ma non troppo e serioso (1:28)
8 Variation VII: Un poco più allegro (1:03)
9 Variation VIII: Poco vivace (1:08)
10 Variation IX: Allegro pesante e risoluto (2:12)
11 Variation X: Presto (0:33)
12 Variation XI: Allegretto (1:09)
13 Variation XII: Un poco più moto (0:48)
14 Variation XIII: Vivace (1:09)
15 Variation XIV: Grave e maestoso (4:26)
16 Variation XV: Presto scherzando (0:28)
17 Variation XVI: Allegro (0:50)
18 Variation XVII: [Allegro] (1:01)
19 Variation XVIII: Poco moderato (2:01)
20 Variation XIX: Presto (0:43)
21 Variation XX: Andante (2:24)
22 Variation XXI: Allegro con brio — Meno allegro — Tempo I (1:28)
23 Variation XXII: Allegro molto: Alla "Notte e giorno faticar" di Mozart (0:52)
24 Variation XXIII: Allegro assai (0:44)
25 Variation XXIV: Fughetta: Andante (2:22)
26 Variation XXV: Allegro (0:41)
27 Variation XXVI: Piacevole (1:12)
28 Variation XXVII: Vivace (0:53)
29 Variation XXVIII: Allegro (1:21)
30 Variation XXIX: Adagio ma non troppo (1:04)
31 Variation XXX: Andante, sempre cantabile (1:21)
32 Variation XXXI: Largo, molto espressivo (4:02)
33 Variation XXXII: Fuga: Allegro — Poco adagio (2:35)
34 Variation XXXIII: Tempo di minuetto moderato (ma non tirarsi dietro) (3:16)
Six Bagatelles Op.126
35 No.1 in G: Andante con moto (3:09)
36 No.2 in G minor: Allegro (2:34)
37 No.3 in E flat: Andante (2:39)
38 No.4 in B minor: Presto (3:54)
39 No.5 in G: Quasi allegretto (1:53)
40 No.6 in E flat: Presto – Andante amabile e con moto – Tempo I (3:36)
Total time: 67:34