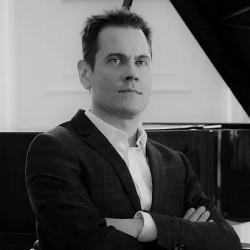 Biography:
Daniel-Ben Pienaar has garnered an international reputation for his unconventional approaches to standard piano repertoire, with particular interest in early music, Bach, the Viennese Classics and early Romantics.
He was born in South Africa where he made his debut aged 14, playing Liszt's First Piano Concerto and trained at the Royal Academy of Music where he won the Queen's Commendation in 1997.
His recital appearances have included cycles of works by Bach, Mozart, Beethoven, Schubert and Chopin. Over the last twenty years he has begun recording that repertoire, with much interest in the special artistic possibilities that the studio affords. His discography includes much-praised traversals of Bach's '48', complete Sonata cycles by Mozart, Beethoven and Schubert, the first complete recordings of the keyboard works of Orlando Gibbons and of the mature piano works of South African composer Arnold Van Wyk, as well as both the Goldberg and Diabelli Variations. He has also released a compilation of 36 works by 36 different composers from a period of more than a hundred years of early keyboard literature, 'The Long 17th Century'.
His chamber music collaborations have included extensive travelling in Japan with violinist Narimichi Kawabata, Mozart and Brahms Violin Sonata cycles with Peter Shepard Skaerved, playing at prominent London venues with violinist Giovanni Guzzo, performing Bach's Art of Fugue on harpsichords and chamber organs with Martin Knizia, and recording music for trumpet and piano (mostly arrangements of his own) on the Linn label with Jonathan Freeman-Attwood.
'Interpretations where within the letter critically observed, a numinous potency breaks free' — Gramophone
'Pienaar responds with an astonishing range of expression and colour' — Sunday Times (London)
'A veritable Mo Farah of the keyboard' — BBC Music Magazine
'One of the most exciting pianists of his generation' — Rondo Magazin (Germany)
'One of the most original pianists on the current scene' — AllMusic
'Daniel-Ben Pienaar's ear for details and subtleties has planted a seed….which just makes most other recordings seem a bit 'flat''. — MusicWeb International