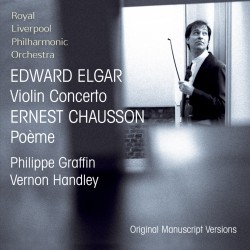 Title:
Elgar Violin Concerto, Chausson Poème
Artists:
Philippe Graffin, violin
Vernon Handley
Royal Liverpool Philharmonic Orchestra
Summary:
The enterprising violinist Philippe Graffin – whose recordings for Avie span the world-premiere recording of Samuel Coleridge-Taylor's Violin Concerto to the original instrumentation of Ravel's Tzigane and specially commissioned works by Lithuanian composer Vytautus Barkauskus – comes up with another plum: the Elgar Violin Concerto but as you've never heard it before. Here he offers another world-premiere recording, performing from Elgar's original manuscript. The story goes that just as Elgar felt he had completed his composition he consulted Kreisler who was to give the world-premiere performance. The virtuoso violinist requested numerous changes to suit his own technique and temperament. Finding the original manuscript in the British Library was for Philippe a "rejuvenating experience, like opening the diary of someone you know well and discovering the reason behind their actions." A similar story comes with Chausson's Poème, a work that was greatly influenced by the great Belgian violinist Ysaÿe. On this recording Philippe restores a dozen or so bars that don't appear in the final published version.
This release continues Avie's association with the RLPO. Vernon Handley, arguably the greatest conductor of English music, was an inspired choice. His only prior recording of the Elgar was with a certain young man named Kennedy.
Tracklist:
Edward ELGAR (1857 – 1934)
Concerto for Violin and Orchestra in b Minor, Op. 61
1. Allegro (17:41)
2. Andante (10:43)
3. Allegro Molto – Cadenza / Accompagnata: Lento – Allegro Molto / Tempo 1 (18:49)
Ernest CHAUSSON (1855 – 1899)
4. Poème, Op. 25 (15:03)
Total time: 62:16
Recorded 2 & 3 August 2005 at Philharmonic Hall, Liverpool, England
Recorded and Edited by Merseyside Sound Recordings
Recording producers: Michael Ogonovsky and David A. Pigott
Sound Engineer: David A. Pigott