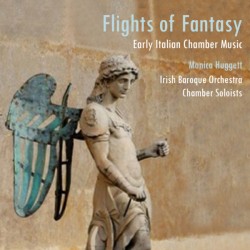 Artists:
Irish Baroque Orchestra Chamber Soloists
Monica Huggett, director
Summary:
Think you know Italian baroque chamber music? Think again. The range, diversity – and even wackiness – is remarkable, as illustrated by Flights of Fantasy, an album of acute inventiveness by Avie stalwart Monica Huggett and the chamber soloists of her Irish Baroque Orchestra. Take Carlo Farina's Capriccio Stravagante, which translates as "outlandish whim", and imitates barking dogs, meowing cats and gunfire. More serious, but no less virtuosic, experimental forms occur in works by Marini, Castello, Legrenzi, and Cavalli – the Venetian best known for his operas – all heard on this album.
Created in 1996, the period-instrument Irish Baroque Orchestra occupies a fundamental place in Ireland's musical landscape. Ten years in, the mantle of artistic director was assumed by Monica Huggett, who has created a decades-long career of critically acclaimed and award-winning recordings, including the Billboard chart-topping, Grammy-nominated Bach Orchestral Suites on Avie (AV 2171).
Tracklist:
Dario CASTELLO (fl. 1st half of 17th century)
[1] Sonata decimaquarta à 4, due soprani e due tromboni overo violete (2 violins, viola da gamba, bass violin and continuo – organ, harp, theorbo) (6:37)
Allegro – Adagio – Duo – Allegro – Adagio – Allegro – Adagio – Adagio
Carlo FARINA (c.1604 – 39)
[2] Capriccio Stravagante (15:45)
(violin, 2 violas and continuo – bass violin, harpsichord and theorbo)
[no tempo indication] – La Lira – Il Pifferino -Lira Variata – Qui si batte con il legno – Presto – Adagio – La Trombetta – Il Clarino – La Gallina – Il Gallo – Presto – Il Flautino pian piano – Forte – Presto – Adagio – Il Tremulo – Il Piferino della Soldatesca, Il Tamburo – Il Gatto – Il Cane – Presto – La Chitarra Spagniola – Adagio, sempre più adagio.
Francesco CAVALLI (1602 – 76)
[3] Sonate à 6 (1656) (5:30)
(2 violins, alto viola, tenor viola, bass violin, theorbo and continuo – organ)
[no tempo indications]
Biagio MARINI (1594 – 1663)
[4] Passacaglio à 4 (5:23)
(2 violins, tenor viola and continuo – bass violin, organ, lirone, harp and theorbo)
Introdutione – Prima Parte – Seconda Parte – Terza Parte – Finale
Heinrich Ignaz Franz von BIBER (1644 – 1704)
[5] Harmonia Artificiosa Partia VI (16:14)
(2 violins and continuo – bass violin, lirone, harp, harpsichord and theorbo)
Adagio – Allegro (Harpeggio) – Aria – Variatio I-XIII -Finale (Adagio – Presto)
Giovanni LEGRENZI (1626 – 90)
[6] La Fugazza Sonate à 5 (1671), due violini, alto viola, tenore viola et viola da brazzo (4:51)
(2 violins, alto viola, tenor viola, viola da gamba and continuo – bass violin, organ and theorbo)
[no tempo indication] – Adagio – Allegro – Adagio – Allegro – Adagio – Allegro – Adagio – Allegro
CASTELLO
[7] Sonata Seconda à sopran solo (5:13)
(violin and continuo – bass violin, theorbo, harp, lirone and organ)
Allegro – Adagio – Allegro – Adagio – Allegro – Tremolo – Allegro – Adagio – Adagio – Adagio adagio
Antonio BERTALI (1605 – 69)
[8] Sonata à 5 (8:16)
(2 violins, alto viola, tenor viola, viola da gamba and continuo – bass violin and organ)
Girolamo Alessandro FRESCOBALDI (1583 – 1643)
[9] Canzona Terza (1627/1637) (4:23)
(harpsichord solo)
CASTELLO
[10] Sonata decima sesta à 4 per stromenti d'arco (6:37)
(2 violins, tenor viola, bass violin and continuo – organ, theorbo and harp)
Allegro – Adagio – Adagio – Adagio – Allegro – Adagio – Allegro – Adagio
Recorded in St. Peter's Church, Drogheda, January 2009
Produced by François Eckert
Reviews: