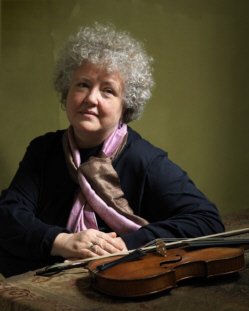 Biography:
Monica Huggett was born in London and educated at the Royal Academy of Music from 1969 to l974. From there she went on to co-found, with Ton Koopman, the Amsterdam Baroque Orchestra for which she was the leader from 1980 to 1987. In 1982 she founded the London-based Trio Sonnerie, which has changed form over the years and is now known as Ensemble Sonnerie.
She was also a founding member of Christopher Hogwood's Academy of Ancient Music. She has worked with Trevor Pinnock at the English Concert, and has worked as guest director and soloist with Tafelmusic, Toronto; Arion, Montreal; Norwegian Chamber Orchestra; Los Angeles Chamber Orchestra; Philhormonia Baroque, San Francisco;and the Seville Baroque Orchestra. Monica currently is Artistic Director of the Irish Baroque Orchestra and the Portland Baroque Orchestra. In 1994 she was made a Fellow of the Royal Academy of Music.
In July 2008 she was appointed Artistic Director of the Historical Performance Program at The Juilliard School of Music, New York. Her discography is vast and includes a 2002 Gramophone Award for her recording of the Biber Violin Sonatas.
Upcoming Concerts:
Monica Huggett has no upcoming tour dates. Please check back soon.