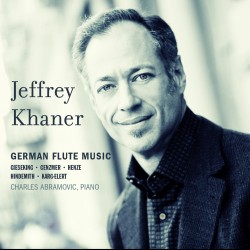 Artists:
Jeffrey Khaner, flute
Charles Abramovic, piano
Price:
£7.49 - 40% off - Limited time only!
Summary:
Through his previous five releases on AVIE, flautist Jeffrey Khaner has become a familiar face whose performances never cease to please and astonish in equal measure. Principal flute of the Philadelphia Orchestra, his extensive forays into the solo canon have cast him in a glowing spotlight. Revered by flute players world-wide, his music-making has also been a delightful discovery for scores of classical music fans. German Flute Music will be no exception as it traverses some rare corners of the flute repertoire, ranging from delightfully melodic works by turn-of the-century composer Sigfrid Karg-Elert and Walter Gieseking (better known as the great pianist), who was an almost exact contemporary of Paul Hindemith who in turn was a teacher of Harald Genzmer and a great influence on Hans Werner Henze.
Tracklist:
Walter GIESEKING (1895-1956)
Sonatine for flute and piano
1. Moderato (4:57)
2. Allegretto (3:28)
3. Vivace (5:07)
Harald GENZMER (1909-2007)
Sonata No. 2 for flute and piano in E minor
4. Allegro moderato (4:33)
5. Scherzo (4:08)
6. Introduktion und Finale: Langsam – lebhaft (5:20)
Hans Werner HENZE (b.1926)
Sonatina for flute and piano
7. Moderato – Allegro molto vivace (2:46)
8. Andantino (3:02)
9. Presto (3:33)
Paul HINDEMITH (1895-1963)
Sonata for flute and piano
10. Heiter bewegt (4:43)
11. Sehr langsam (4:22)
12. Sehr Lebhaft: Marsch (4:55)
Sigfrid KARG-ELERT (1877-1933)
13. Sinfonische Kanzone Op.114 (8:40)
Recorded at the Curtis Hall, Philadelphia, PA, 22 November 1999
Recording Producer and Engineer: Da-Hong Seetoo
Reviews:
MusicWeb - Read here...