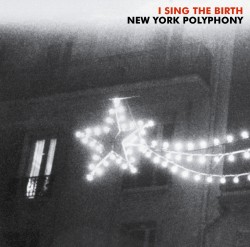 Artists:
New York Polyphony:
Geoffrey Williams, alto
Geoffrey Silver, tenor
Scott Sispensa, baritone
Craig Phillips, bass-baritone
Summary:
The Christmas season uniquely admits the widest variety of musical tradition under one roof. From ancient plainsong to contemporary dissonance, from the simplest folk melody to the most elaborate polyphony, the Christmas repertoire combines effortlessly in the most unlikely juxtapositions. The landscape traversed on this disc is broad, from twelfth-century conductus to a 21st-century carol, though the musical centre is firmly polyphonic and rooted in the late medieval world.
The four men of the aptly named New York Polyphony fuse elegant vocalism with expert ensemble singing, delivering dynamic, historically-informed performances in a range of styles. From the simplicity of plainchant to the dense chromaticism of contemporary works, New York Polyphony's sound is unified, energized and distinctive. I Sing the Birth is New York Polyphony's debut recording.
Tracklist:
Andrew SMITH (b.1970)
1. Veni Redemptor gentium (2:36)
PLAINCHANT
2. Hodie Christus natus est (0:53)
Giovanni Pierluigi da PALESTRINA (c.1525–1594)
3. Hodie Christus natus est (1:39)
ANONYMOUS
4. Puer natus est nobis (2:47)
Kenneth LEIGHTON (1929–1988)
5. Lully, lulla (2:58)
PEROTIN (c.1160–1240)
6. Beata Viscera (1:54)
William CORNYSH (c.1465–1523)
7. Ave Maria Mater Dei (2:36)
PLAINCHANT
8. Alma Redemptoris mater (1:39)
IRISH TRADITIONAL
9. The darkest midnight in December (2:05)
Peter Maxwell DAVIES (b.1934)
10. The Fader of Heven (1:21)
ANONYMOUS
11. Vox in Rama (0:53)
Clemens non PAPA (c.1510–c.1556)
12. Vox in Rama (3:08)
ANONYMOUS
13. Vox in Rama (0:59)
arr. Alexander CRAIG
14. Away in a manger (2:26)
Robert PARSONS (c.1530–?1570)
15. Ave Maria (3:35)
16. Lully, lulla – Coventry Carol (2:28)
PLAINCHANT
17. Ave Maria (1:00)
ENGLISH TRADITIONAL
18. Lullay, lullow (2:10)
19. Marvel not, Joseph (5:44)
Richard SMERT (fl.1428–1477)
20. Nowell: Dieus wous garde (2:52)
PLAINCHANT
21. Veni Redemptor gentium (0:51)
William BYRD (c.1540–1623)
22. O magnum mysterium (4:54)
PLAINCHANT
23. Ecce advenit (2:07)
Clemens non PAPA
24. Magi veniunt ab oriente (3:18)
Andrew SMITH
25. Nunc dimittis (2:35)
PLAINCHANT
26. Vox in Rama (0:56)
Total Time: 60:55
Recorded November 2006 and April/May 2007 at St. George's Church, Stuyvesant Square, New York
Producer: Malcolm Bruno
Sound Engineer: John C. Baker
Editing and post production: Adrian Hunter
Reviews: