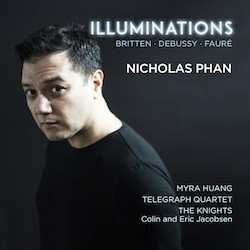 Artists:
Nicholas Phan, tenor
Myra Huang, piano
Telegraph Quartet
The Knights Chamber Orchestra
Colin and Eric Jacobsen, artistic directors
Summary:
Following acclaimed albums devoted to Britten, baroque lute songs and German lieder, Grammy Award-nominated tenor Nicholas Phan continues to spread his wings with Illuminations, an album featuring compositions by Benjamin Britten, Claude Debussy and Gabriel Fauré who were each inspired by the poetry of two 19th-century French literary titans, Paul Verlaine and his protégé and eventual lover Arthur Rimbaud. The intertwined lives of the French poets and composers manifested themselves in Fauré's impassioned Verlaine-inspired La bonne chanson and Debussy's Ariettes oubliées drawn from Verlaine's Romances sans paroles. Just decades later Britten was inspired by Rimbaud's influential prose-poetry Les Illuminations.
Tracklist:
Gabriel Fauré (1845 – 1924)
La bonne chanson, Op. 61
1. Une sainte en son aureole (2.18)
2. Puisque l'aube grandit (1.55)
3. La lune blanche luit dans les bois (2.31)
4. J'allais par des chemins perfides (1.59)
5. J'ai presque peur en vérité (2.17)
6. Avant que tu ne t'en ailles (2.48)
7. Donc, ce sera par un clair jour d'été (2.42)
8. N'est-ce pas? (2.33)
9. L'hiver a cessé (3.16)
Claude Debussy (1862 – 1918)
Ariettes oubliées, L. 60
10. C'est l'extase (3.07)
11. Il pleure dans mon coeur (2.35)
12. L'ombre des arbres (2.38)
13. Chevaux de bois (3.17)
14. Aquarelles I – Green (2.23)
15. Aquarelles II – Spleen (2.26)
Benjamin Britten (1913 – 1976)
Les Illuminations, Op. 18
16. I. Fanfare (2.28)
17. II. Villes (2.24)
18. IIIa. Phrase (1.11)
19. IIIb. Antique (2.20)
20. IV. Royauté (1.35)
21. V. Marine (0.59)
22. VI. Interlude (2.37)
23. VII. Being beauteous (4.11)
24. VIII. Parade (2.48)
25. IX. Départ (2.43)
Total time
Tracks 1 – 15 Recorded September 26 & 27 2017, Skywalker Sound, a Lucasfilm Ltd Company, Marin County, California
Producer, Engineer, editing, mixing & mastering: Marlan Barry
Assistant engineer: Dann Thompson (Debussy) Robert Gatley (Faure)
Track 16 – 25 Recorded October 6, 2017, Drew University Concert Hall
Producer, Engineer, editing, mixing & mastering: Marlan Barry
Special thanks to Ellis Hilton, Concert Hall manager