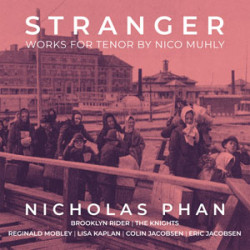 Summary:
"this tour de force collaboration with Nico Muhly … his vocal writing, especially with Phan, is inspired and captivating … Don't miss this." – American Record Guide
"An insightful, thought-provoking exploration of otherness, identity and humanity" – Opera News
"suffused with warmth … [and] the clarity of Phan's singing gives the texts emotional force."★★★★ – Sunday Times
"personal and deeply felt album … Phan, on splendidly expressive form" ★★★★ – BBC Music Magazine
"makes singing sound so effortless … Phan's distinctive performance" – Gramophone
"The heart immediately opens at the sound of Phan's voice … Stranger is a must" – San Francisco Classical Voice
"a gripping listening experience and, first and foremost, once again shows Nicholas Phan to be an outstanding singer with clear diction and impeccable vocal delivery who excels in the song repertoire." ★★★★★ - Pizzicato

Twice Grammy-nominated tenor Nicholas Phan is "one of the world's most remarkable singers" (Boston Globe). Nico Muhly is one of today's most sought-after composers. Nick and Nico's collaboration began with a commission when Nick curated a series for the Philadelphia Chamber Music Society in 2020. The resulting song cycle, Stranger, finds common ground in the musicians' reflections on identity and immigration, themes that resonate as much today as they have through the centuries. This world-premiere recording of Stranger compliments Nico's Lorne Ys My Liking, a setting of the 19th Chester Mystery Play, and Impossible Things, a triptych of poems by the Greek poet C.P. Cavafy. Nick has recorded with a roll call of collaborators: the adventurous string quartet Brooklyn Rider, shimmering countertenor Reginald Mobley, bold pianist Lisa Kaplan, and transformative Brooklyn-based collective The Knights led by brothers Colin and Eric Jacobsen.
Tracklist:
NICO MUHLY (b. 1981)
Stranger
1. I. Fragments of the Past 0.58
2. II. Ellis Island 3.14
3. III. All Men 3.01
4. IV. Leviticus 19:34 1.25
5. V. Threats & Intimidations 3.03
6. VI. Everyone Cries 2.49
7. VII. My Love 4.16
8. Lorne Ys My Likinge 15.11
Impossible Things
9. Part I: The Hereafter, Near an Open Window 11.47
10. Part II: September of 1903, January of 1904 7.01
11. Part III: 27 June 1906, 2pm; Impossible Things 10.50
Nicholas Phan, tenor
1-7 with Brooklyn Rider
8 with Reginald Mobley, countertenor and Lisa Kaplan, piano
9-11 with Colin Jacobsen, solo violin and The Knights conducted by Eric Jacobsen
Recorded: 28 May 2021, Oktaven Audio, Mount Vernon, NY (1–7); 7 July 2021, Logan Concert Hall, University of Chicago (8); 16 October 2021, The Power Station, BerkleeNYC (9–11)
Producers: Marlan Barry (1–11) & Nico Muhly (9–11)
Engineers: Marlan Barry (1–11), Charles Mueller (1–7) & Ben Miller (9–11)
Mixing & Mastering: Marlan Barry · Editing: Ian Striedter · Technical assistance: Bill Maylone
Publishers: St Rose Music Publishing / Chester Music Ltd (1–7); St Rose Music Publishing (8–11)