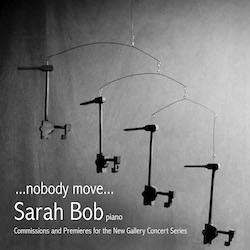 Title:
… nobody move … : Commissions and Premieres for the New Gallery Concert Series
Price:
£12.49 Pre-order now! Reserve your copy and we'll deliver when available.
Summary:
Pianist Sarah Bob is a passionate and trailblazing advocate of the music of our time who has introduced the music of a multitude of living composers to the world. … nobody move … is a collection of works by six award-winning composers whom Sarah commissioned for the Boston-based New Gallery Concert Series which she founded 20 years ago. Her exuberance and exactitude are common threads tying together the album's diverse musical dialects, from Jonathan Bailey Holland's evocative chord clusters in The Intimacy of Harmony to Curtis K. Hughes' electro-acoustic Avoidance Tactics #1 and his varied suite of miniatures, vestibulations; from the late Lee Hyla's energetic Solo Cadenzas from his large-scale chamber work My Life on the Plains, lovingly arranged by Sarah Bob, to David Rakowski's cheeky Mind the Gap #18, tender Wayo and edgy Ghepardo; from Shaw Pong Liu's powerful Never Has Been Yet which sets Langston Hughes' poem Let America Be America Again; to Randall Woolf's fearlessly virtuosic title track. … nobody move … is a striking album that ranges from in-your-face to contemplative moods, entertaining the ears of contemporary music lovers and novices alike.
Tracklist:
Randall Woolf (b. 1959)
1. …nobody move… for solo piano (1997) (6:02)

Jonathan Bailey Holland (b. 1974)
2. The Intimacy of Harmony (2013) (8:06) *
David Rakowski (b. 1958)
3. Mind the Gap #18 from Préludes Book II (2012) (3:16) *
4. Wayo #51 from Préludes Book VI (2015) (3:28) *
5. Ghepardo #48 from Préludes Book V (2015) (3:09) *
Curtis K. Hughes (b. 1974)
Suite No. 1 from "Vestibulations for Solo Piano" (2016) (10:10) *
6. slacken
7. crestfall [downer] (2004/2016)
8. perturb [paean to a fly trapped in the vestibule]
9. Mitigate
10. fluster (2015)
Curtis K. Hughes (b. 1974)
11. Avoidance Tactics #1 for piano and electronics (1999/2001) (11:50) *
Lee Hyla (1952 – 2014)
12. Solo Cadenzas from My Life on the Plains (2010) / arranged by Sarah Bob (2012) (5:05) *
Shaw Pong Liu (b. 1979)  
13. Never Has Been Yet for vocalizing pianist (2017) (13:18) *
Words by Langston Hughes
Audience participation in Never Has Been Yet represented by Carrie Cheron, Lauren A. Cook, Will Cordes, Naomi Gurt Lind, Bryan Hayslett, Carolyn Shadid Lewis, Shaw Pong Liu, Sarah Bob
Total time: 60:04
* world-premiere recordings