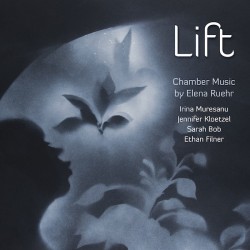 Title:
Lift – Chamber Music by Elena Ruehr **
Price:
£7.79 | 40% discount (usual price £12.99)
DOWNLOAD AND STREAM
Summary:
Award-winning composer Elena Ruehr's Avie Records debut, Averno, introduced three of her big and bold works for choir and orchestra. For her follow up, Ruehr scales down to intimate solo and chamber works for strings and piano, all with references to older music in some way. Baroque elements infuse Klein Suite for solo violin, Prelude Variations for viola and piano, and The Scarlatti Effect for piano trio. The three movements of the jazz-tinged Second Violin Sonata, are dedicated to people who have influenced Ruehr's work: her composition teacher William Bolcom, jazz teacher Eddie Russ, and Oscar Peterson whom Ruehr met on New Year's Eve 1980. Adrienne and Amy was written in honour of the pioneering American composer Amy Beach and her biographer Adrienne Fried Block. The virtuosic and lyrical title track for solo cello was inspired by Nobel Prize-winner Malala Yousafzai, the Pakistani school pupil and education activist. Boston-based Ruehr, whose wide-ranging works are performed from coast to coast, teaches at MIT. She was awarded a Guggenheim Fellowship.
Tracklist:
ELENA RUEHR (b. 1963)
1. Lift for solo cello (2013) (9.57)
Second Violin Sonata (2012)
2. I. For William Bolcom (6.10)
3. II. For Eddie Russ (3.37)
4. III. Meeting Oscar (6.00)
Klein Suite for solo violin (2011)
5. I. Andante (4.10)
6. II. Allegro (3.26)
Adrienne and Amy for violin and piano (2009)
7. I. Adrienne and Amy (5.33)
8. II. The Hermit Thrush (1.02)
9. III. Professor in the Garden (5.41)
10. Prelude Variations for viola and cello (2008) (7.58)
11. The Scarlatti Effect for piano trio (1997) (13.55)
Total time: 67.31
Irina Muresanu, violin
Ethan Filner, viola
Jennifer Kloetzel, cello
Sarah Bob, piano
Recording: February 2, 2014 (The Scarlatti Effect); June 19, 2014 (Second Violin Sonata); June 24, 2011 (Adrienne and Amy, Klein Suite), WGBH, Boston; April 13, 2014 at the Skywalker Sound scoring stage (Lift, Prelude Variations)
Producers: Elena Ruehr and Irina Muresanu (Klein Suite, Second Violin Sonata, Adrienne and Amy, The Scarlatti Effect); Cecily Ward (Lift, Prelude Variations)
Engineers: Antonio Oliart (WGBH): (Klein Suite, Second Violin Sonata, Adrienne and Amy, The Scarlatti Effect); Mark Willsher (Skywalker Sound): (Lift, Prelude Variations) · Mastered by Antonio Oliart