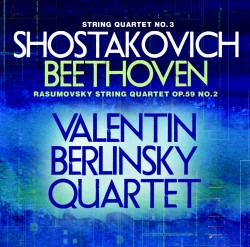 Title:
Shostakovich String Quartet No. 3 Beethoven String Quartet Op. 59, No. 2 "Razumovsky"
Artists:
Valentin Berlinsky Quartet
Price:
£7.49 - 40% off - Limited time only!
Summary:
The Valentin Berlinsky Quartet made an auspicious recording debut last year with highly acclaimed readings of Shostakovich's String Quartets Nos. 7 and 8, and Beethoven's first Razumovsky. Augmenting an already impressive pedigree – Yo-Yo Ma praised their "pure music making," while David Zinman hailed "a quartet that has a bright future" – this Zurich-based foursome continues their series on Avie pairing the two composers.
The Valentin Berlinsky Quartet chose its name to honor the legendary founding cellist of the Borodin Quartet, receiving the blessing for their attribution from the cellist's daughter, pianist Ludmila Berlinskaia with whom the Quartet frequently performs. Beethoven and Shostakovich were composers who dominated the quartet genre during their respective eras and whose strong musical contrasts and rapidly changing mood swings complement each other superbly.
The award-winning members of the Valentin Berlinsky Quartet are four of the finest musicians working in Switzerland today, principal players in the Zurich Opera and Tonhalle Orchestras. As chamber musicians they have worked with such artists as Martha Argerich, Julia Fischer and Radu Lupu. In addition to performances throughout Europe and China, the Quartet has reached audiences further afield through their numerous YouTube videos, including their recording of Beethoven's Second Razumovsky Quartet http://www.youtube.com/watch?v=y9-mY3xSC-I.
Tracklist:
Dmitri SHOSTAKOVICH (1906 – 1975)
String Quartet No. 3 in F, Op.73
1 I. Allegretto (6:59)
2 II. Moderato con moto (5:14)
3 III. Allegro non troppo (4:09)
4 IV. Adagio (6:19)
5 V. Moderato (11:40)
Ludwig van BEETHOVEN (1770 – 1827)
String Quartet Op. 59, No. 2 in E minor 'Rasumovsky'
10 I. Allegro (12:03)
11 II. Molto adagio (12:15)
12 III. Allegretto (6:58)
13 IV. Finale: Presto (5:07)
Total time: 70:46
Recorded 29 April – 1 May 2012, Reformed Church Seon, Switzerland
Producer: Chris Hazell
Balance engineer and editing: Simon Eadon
Reviews:
The Strad - Read here...