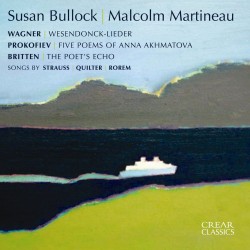 Artists:
Susan Bullock, soprano
Malcom Martineau, piano
Price:
£7.49 40% off - Limited time only!
Summary:
Leading dramatic soprano Susan Bullock offers a stunning recording for Avie's innovative Crear Classics series with a recital of songs which are linked by the theme of love and aspects of love. Covering a vast period from 1880 to the 1950s, the 19th century is represented by Richard Strauss in his youthful and flirtatious three early Lieder, and Wagner in his mature romance with Mathilde Wesendonck which resulted in the songs bearing her name. Prokofiev's wistful and woebegone love songs are a fascinating complement to Britten's Pushkin settings. Selections by the quintessential song composers Roger Quilter and Ned Rorem round out the eclectic programme. Susan Bullock's consummate collaborator is Malcolm Martineau who first appeared on Avie in recital with mezzo-soprano Ann Murray (AV 2077).
Tracklist:
Richard STRAUSS (1864 – 1949)
1. Rote Rosen – Red Roses o.op.76 (1883) – words Karl Stieler (1842 – 1885) (2:13)
2. Die erwachte Rose – The Rose Awoken o.op.66 (1880) – words Friedrich von Sallet (1812-1843) (2:57)
3. Begegnung – Meeting o.op.72 (1880) – words Otto Friedrich Gruppe (1804-1876) (2:03)
Richard WAGNER (1813 – 1883)
Wesendonck-Lieder (1857/58) – words Mathilde Wesendonck (1828-1902) (18:52)
4. I Der Engel – The Angel (2:53)
5. II Stehe still! – Stand still! (3:36)
6. III Im Treibhaus – In the greenhouse Studie zu Tristan und Isolde (5:22)
7. IV Schmerzen – Pain (2:19)
8. V Träume – Dreams Studie zu Tristan und Isolde (4:42)
Sergei PROKOFIEV (1891 – 1953)
Five Poems of Anna Akhmatova, Op.27 (1889-1966) (1916) (11:44)
9. I Solnce komnatu napolnilo – Sunlight has filled the chamber (1:22)
10. II Nastojashchuju nezhnost´ – True tenderness (1:33)
11. III Pamjat´ o solnce – Thoughts of the sunlight (3:08)
12. IV Zdravstvuj! – Hello! (1:47)
13. V Seroglazïj korol´ – The grey-eyed king (3:54)
Benjamin BRITTEN (1913 – 1976)
The Poet's Echo (`Ekho Po`eta) – Six poems of Pushkin (1799 – 1837), Op. 76 for High Voice and Piano (1965) (16:42)
14. I `Ekho – Echo (3:05)
15. II Ja dumal, serdce pozabylo – My Heart… (1:44)
16. III Angel (2:31)
17. IV Solovej i roza – The Nightingale and the Rose (4:08)
18. V `Epigramma – Epigram (0:50)
19. VI Stikhi, sochinennyje noch'ju vo vremja bessonnicy – Lines written during a sleepless night (4:24)
Roger QUILTER (1877 – 1953)
20. Fair House of Joy, Op. 12, No. 7 (1907) from Seven Elizabethan Lyrics – words attrib. Tobias Hume (c. 1569 – 1645) (2:14)
21. Autumn Evening, Op. 14, No. 1 (1909/10) – words Arthur Maquarie (1874 – 1955) (3:06)
22. Dream Valley, Op. 20, No. 1 (1916) from Three William Blake Songs (1757-1827) (2:34)
23. Love's Philosophy, Op. 3, No. 1 (1905) – words Percy Bysshe Shelley (1792-1822) (1:28)
Ned ROREM (b. 1923)
24. Early in the Morning (1958) – words Robert Hillyer (1895-1961) Dedicated to Pierre Quézel (1:54)
25. Now Sleeps the Crimson Petal (1969) – words Alfred Lord Tennyson (1809 – 1892) (4:09)
26. O You Whom I Often and Silently Come (16 July 1957) – words from Leaves of Grass by Walt Whitman (1819 – 1892) Dedicated to Maggy Magerstadt (0:29)
27. Little Elegy (28 March 1948) – words Elinor Wylie (1885 – 1928) Dedicated to Nell Tangmann (1:23)
28. Alleluia (1949) Dedicated to Jenny Tourel (2:44)
Recorded 21 – 25 May 2006 at CREAR, Argyll, Scotland
Recording Producer and Editor: Andreas Ruge
Co-Producer: Christopher Robson
Executive Producer: Rainer Schmidt