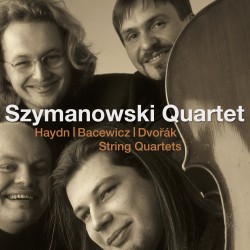 Artists:
Szymanowski Quartet:
Marek Dumicz, violin
Grzegorz Kotow, violin
Vladimir Mykytka, viola
Marcin Sieniawski, cello
Price:
£7.99 (Hybrid SACD) - 40% off - Limited time only!
Summary:
This is the debut recording by former BBC New Generation Artist the Szymanowski Quartet, performing three contrasting works that perfectly demonstrate these young instrumentalists' immense charisma and countless fine qualities, in the elegance of Haydn to the rustic hues of Dvořák, and the folk-tinged neo-classicism of their Polish compatriot Grażyna Bacewicz who was a protégé of the ensemble's namesake. What links these three very different works is that they were written by composers who knew the medium from the inside; all were performers in quartets at some point during their careers.
The Szymanowski Quartet joins a distinguished roster of young artists introduced by Avie Records over the years. Since establishing themselves in Warsaw in 1995, the ensemble has won numerous international awards, including the 2005 Karol Szymanowski Award, marking the first time a string quartet had received the honour. The Quartet has performed throughout the world, at the BBC Proms, City of London, Bath and Schleswig-Holstein Festivals, in London's Wigmore Hall, New York's Carnegie Hall, and tours in France, Germany and Australia. Since 2000, the Szymanowski Quartet has been in Residence at the Musikhochschule in Hanover, Germany.
Tracklist:
Joseph HAYDN (1732 – 1809)
1. – 4. String Quartet in C major, Op. 54/2, H. 3/57 (19:55)
Grażyna BACEWICZ (1909 – 1969)
5. – 7. String Quartet No. 4 (22:40)
Antonín DVOŘÁK (1841 – 1904)
8. – 11. String Quartet No. 14 in A flat major, Op. 105 (33:23)
Total time: 76:00
Recorded 24 – 27 March 2004, in the Angelika-Kauffmann-Saal, Schwarzenberg, Austria
Producer and recording engineer: John Barnes
Reviews:
MusicWeb - Read here...