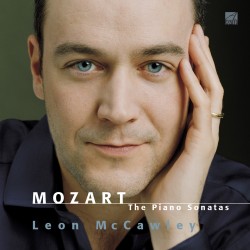 Summary:
This release was Leon McCawley's personal tribute to Mozart in the composer's 250th birthday year – a new recording of the complete piano sonatas. Leon's acute sensitivity and deeply committed interpretations illuminate the precision, beauty, drama and tension of Mozart's radiant musical language; his inspiration for this recording was Mozart-specialist Nina Milkina, his long-time cherished mentor and muse. Mozart perfected the sonata form with infinite purity and wisdom, and Leon honours the scores in every way possible, allowing Mozart's many-faceted character to shine through.
Prize-winner of the International Beethoven Piano Competition in Vienna and the Leeds International Competition, Leon's previous Avie releases – a double disc of works by Schumann (AV 0029) and a three-CD set of the world premiere recording of the complete solo piano works by Hans Gál (AV 2064) – have both been honoured with an Editor's Choice from The Gramophone. His concertising has taken him around the globe, in recent seasons to the Queen Elizabeth Hall (International Piano Series) and Wigmore Hall in London, the Philharmonie and Konzerthaus in Berlin, the Prinzregententheater in Munich, the Musikverein in Vienna, Tonhalle in Zurich, Prague Rudolfinum and Washington DC's Kennedy Center.
Leon's 5-CD Mozart Sonata set is competitively priced and – with the inclusion of the A minor Rondo, Eine Kleine Gigue, Menuett in D, and B minor Adagio – boasts an added value not offered with any other available version.
Tracklist:
Wolfgang Amadeus MOZART (1756 – 1791)
CD 1
Sonata K279 in C major (13:55)
1. I Allegro (5:07)
2. II Andante (5:13)
3. III Allegro (3:35)
Sonata K280 in F major (12:41)
4. I Allegro assai (4:35)
5. II Adagio (5:09)
6. III Presto (2:57)
Sonata K281 in B flat major (13:20)
7. I Allegro (4:29)
8. II Andante amoroso (4:18)
9. III Rondeau: Allegro (4:33)
Sonata K282 in E flat major (11:06)
10. I Adagio (4:32)
11. II Menuetto I & II (4:20)
12. III Allegro (2:14)
Sonata K283 in G major (12:10)
13. I Allegro (4:08)
14. II Andante (3:54)
15. III Presto (4:08)
Total time CD 1: 63:59
CD 2
Sonata K284 in D major (25:14)
1. I Allegro (5:06)
2. II Rondeau en Polonaise – Andante (4:19)
3. III Thema und Variationen – Andante (15:49)
Sonata K309 in C major (17:33)
4. I Allegro con spirito (5:50)
5. II Andante un poco adagio (5:49)
6. III Rondeau: Allegretto grazioso (5:54)
Sonata K311 in D major (15:48)
7. I Allegro con spirito (4:39)
8. II Andante con espressione (4:39)
9. III Rondeau: Allegro (6:30)
Sonata K310 in A minor (18:58)
10. I Allegro Maestoso (5:55)
11. II Andante cantabile con espressione (9:56)
12. III Presto (3:07)
Total time: 78:10
CD 3
Sonata K330 in C major (18:28)
1. I Allegro moderato (6:36)
2. II Andante cantabile (6:16)
3. III Allegretto (5:36)
4. Rondo K511 in A minor (10:29)
Sonata K331 in A major (23:32)
5. I Andante grazioso (13:43)
6. II Menuetto & Trio (6:27)
7. III Alla Turca: Allegretto (3:22)
Sonata K332 in F major (17:58)
8. I Allegro (6:59)
9. II Adagio (4:19)
10. III Allegro assai (6:40)
Total time: 71:01
CD 4
Sonata K333 in B flat major (21:33)
1. I Allegro (7:58)
2. II Andante cantabile (7:32)
3. III Allegretto grazioso (6:03)
4. Fantasie K475 in C minor (11:08)
Sonata K457 in C minor (17:34)
5. I Molto allegro (6:02)
6. II Adagio (6:56)
7. III Allegro assai – agitato (4:36)
Sonata K545 in C major (10:33)
8. I Allegro (3:12)
9. II Andante (5:31)
10. III Rondo: Allegretto (1:50)
Total time: 61:22
CD 5
Sonata K533/494 in F major (23:34)
1. I Allegro (8:01)
2. II Andante (9:23)
3. III Rondo: Allegretto (6:10)
Sonata K570 in B flat major (17:42)
4. I Allegro (6:10)
5. II Adagio (7:49)
6. III Allegretto (3:43)
7. Eine Kleine Gigue K574 in G major (1:39)
8. Menuetto K355/K576b in D major (3:08)
Sonata K576 in D major (14:43)
9. I Allegro (5:15)
10. II Adagio (5:08)
11. III Allegretto (4:20)
12. Adagio K540 in B minor (9:00)
Total time CD 5: 70:32
Recorded 5 – 8 December 2005 and 22 – 25 May 2006, at Potton Hall, Suffolk
Produced and Engineered by Simon Fox-Gál
Editing: Sebastian Schubert and Simon Fox-Gál