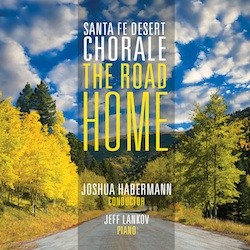 Artists:
Santa Fe Desert Chorale
Joshua Habermann, conductor
Jeff Lankov, piano
Summary:
Taking its title from Stephen Paulus' a cappella choral piece, The Road Home celebrates the diverse and ever-changing influences that make up American culture by featuring repertoire by immigrant and native-born Americans, ranging
 from mid-19th-century Shaker music to jazz, folk and classically inspired works by leading 21st-century choral composers. The Santa Fe Desert Chorale's commitment to expanding the choral canon led to the commission of Jake Runestad's Reflections.
The 24-voice, professional Santa Fe Desert Chorale, one of the most distinguished American vocal ensembles, makes its commercial recording debut with beautiful and assured performances, led by artistic director Joshua Habermann.
Tracklist:
Joseph P. Webster (1819 – 1875) arr. Aaron Humble
1. In The Sweet By and By (3.06)
Shaker Music
2. The Lark (0.52)
3. The Nightingale's Song (0.42)
4. Deal Gently with Thy Servants (4.23)
5. Encouragement (2.33)
Heavenly Home: Three American Songs
arr. Shawn Kirchner (b. 1970)
6. Unclouded Day (2.20)
7. Angel Band (6.14)
8. Hallelujah (3.27)
Sydney Guillaume (b. 1982)
9. Dominus Vobiscum (7.08)
Jake Runestad (b. 1986)
10. Reflections (7.15)
Morten J. Lauridsen (b. 1943)
Excerpts from Mid-Winter Songs
11. Lament for Pasiphaë (4.34)
12. Mid-Winter Waking (1.44)
13. Intercession in Late October (6.02)
Stephen Paulus (1949-2014)
14. The Road Home (3.30)
Kirchner
15. I'll Be On My Way (3.35)
Sammy Fain (1902 – 1989)
16. I'll Be Seeing You (2.25)
arr. Phil Mattson
Total time: 59.58
Recorded, October 23-24, 2017 at Morton H. Meyerson Symphony Center, Dallas, Texas, USA
Producer: Elizabeth Ostrow
Recording Engineer & Editor: Brad Michel