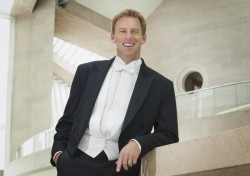 Biography:
Joshua Habermann, Artistic Director, is in his tenth season with the Santa Fe Desert Chorale. Since joining the Chorale he has raised the ensemble's artistic profile and broadened its programming to include choral-orchestral masterworks as well as cutting-edge a cappella programs.
He has led honor choirs and choral festivals in North and Latin America, Europe, and Asia. As a singer (tenor) he has performed with the Oregon Bach Festival Chorus (Eugene, OR) and Conspirare (Austin, TX). Recording credits include three projects with Conspirare: Through the Green Fuse; Requiem, a GRAMMY® nominee for best choral recording in 2006; and Threshold of Night, a GRAMMY® nominee for best choral recording and best classical album in 2009.
In 2011, Joshua Habermann was named Director of the Dallas Symphony Chorus, the official vocal ensemble of the Dallas Symphony Orchestra, now in its 40th anniversary season. As Director, he prepares the 200-voice chorus for classical and pops series concerts. Highlights with the DSO include performances of Bach's St. Matthew Passion, Verdi's Requiem, Berlioz' Te Deum, and Britten's War Requiem, which was performed for the national meeting of the American Choral Directors Association in 2013.
From 2008-2011 Joshua Habermann was Director of Choral Studies at the University of Miami Frost School of Music, where he led the graduate program in conducting and directed the Frost Chorale. Notable projects in Miami included an appearance at the Florida Chapter of the American Choral Directors Association convention, and collaborations with the New World Symphony and conductor Michael Tilson Thomas in music of Ives, Schubert, and Beethoven. During this same period, Dr. Habermann led the Master Chorale of South Florida in performances of masterworks such as Mendelssohn's Elijah, Haydn's Creation, and Mozart's Requiem.
From 1996-2008 Habermann was Assistant Conductor of the San Francisco Symphony Chorus, and Professor of Music at San Francisco State University, where under his direction the SFSU Chamber Singers undertook international engagements in Havana, Cuba, and concert tours in Germany, the Czech Republic, and China. In 2006 he led a collaboration between the SFSU Chamber Singers and the Orchestre des Jeunes de Provence in music of Poulenc and the Requiem of Maurice Duruflé in concerts throughout France. National invitations include the Waging Peace Festival in Eugene, OR, multiple appearances at the California Music Educators Convention, and an appearance at the American Choral Directors Association regional convention in 2008.
A native of California, Joshua Habermann is a graduate of Georgetown University and the University of Texas at Austin, where he completed doctoral studies in conducting with Craig Hella Johnson. He lives in Dallas with his wife Joanna, daughter Kira, and son Kai.