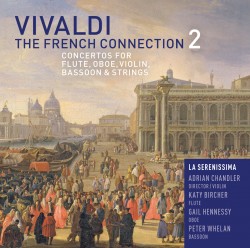 Title:
Vivaldi: The French Connection 2
Artists:
La Serenissima
Adrian Chandler, Violin/Director
Katy Bircher, Flute
Gail Hennessy, Oboe
Peter Whelan, Bassoon
Summary:
Adrian Chandler and La Serenissima, winners of the 2010 Gramophone Award in the Baroque Instrumental category for Vivaldi: The French Connection (AV 2178), present the sequel, The French Connection 2, which features the world-premiere recording of Il Gran Mogol, the lost Vivaldi Flute Concerto recently rediscovered in the National Archives of Scotland. The album contains a further eight varied concertos by Vivaldi, including another world-premiere recording of a Violin Concerto.
Mainstream international media focused their attention on the unearthing of Il Gran Mogol and did so again in February when the work was released first as a digital download. This premiere recording, by today's leading exponents of the music of Vivaldi, did not disappoint and resulted in headline features in Gramophone, BBC Music Magazine, Classic FM and numerous other international media.
Tracklist:
Antonio VIVALDI (1678 – 1741)
'Paris' Concerto 2 for strings & continuo in e, RV 133 (6:16)
1. Allegro (2:25)
2. Largo (1:55)
3. Allegro (1:57)
Concerto for violin, oboe, strings, & continuo in F, RV 543 (7:37)
4. Allegro (2:18)
5. Allegro alla Francese (1:36)
6. Allegro (1:56)
7. Minuet (1:47)
Concerto for flute, strings & continuo in a, RV 440 (8:58)
8. Allegro non molto (3:26)
9. Larghetto (2:39)
10. Allegro (2:54)
Concerto for bassoon, strings & continuo in C, RV 473 (15:36)
11. Allegro (3:35)
12. Largo (4:09)
13. Minuet (7:53)
Concerto Il Gran Mogul for flute, strings & continuo in d, RV 431a (7:59)
14. Allegro non molto (3:31)
15. Larghetto (2:07)
16. Allegro (2:21)
world premiere recording
'Paris' Concerto 11 for strings & continuo in G, RV 150 (4:21)
17. Allegro (1:24)
18. Andante (1:20)
19. Minuet Allegro (1:37)
Concerto Intitolato La Notte for flute, 2 violins, bassoon & continuo in g, RV 104 (9:33)
20. Largo (1:53)
21. Presto: Fantasmi – Largo – Andante (1:54)
22. Presto (1:08)
23. Largo: Il Sonno (1:46)
24. Allegro (2:52)
'Paris' Concerto 7 for strings & continuo in d, RV 127 (4:16)
25. Allegro (1:35)
26. Largo ( 1:21)
27. Allegro (1:21)
Concerto for violin, strings & continuo in B flat, RV 365 (13:08)
28. Allegro poco (5:15)
29. Largo ( 3:53)
30. Allegro (early version) (4:00)
world premiere recording
Total time: 79:03
Recorded at the Hospital of St Cross, Winchester, England,
8 – 11 February, 2011
Recording producer: Simon Fox-Gál