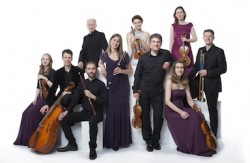 Biography:
La Serenissima was formed in 1994 for a performance of Antonio Vivaldi's La Sena festeggiante and has now firmly established itself as one of the leading exponents of the music of eighteenth century Venice and connected composers.
Since its first CD release in 2003, La Serenissima has been universally applauded by publications including BBC Music Magazine, Diapason, Gramophone Magazine, The Guardian, The Sunday Times, Fanfare Magazine, American Record Guide, The Strad, La Stampa and Goldberg Magazine for its performances on the Avie Label. Their records have variously been nominated for a Gramophone Award (on multiple occasions), included in an elite Forbes List and featured on a hit American television soundtrack. In 2010 the group's release Vivaldi: The French Connection was awarded the Gramophone Award for Best Baroque Instrumental CD and their 2017 release The Italian Job repeated this success. La Serenissima celebrated its 21st birthday in 2015 by recording Vivaldi's Four Seasons (Manchester version) alongside works for violino in tromba marina: a reconstruction project undertaken by violinist Adrian Chandler, luthier David Rattray and the musicologist Michael Talbot which was a first in modern times. The record entered the UK Specialist Classical Chart at number 8, featured as 'Editor's Choice' Gramophone Magazine, 'Concerto Choice' BBC Music Magazine, voted 'Classical Album of the Year' by the Irish Times and ranked in the Top 3 Picks of Radio 3's 'Building a Library – The Four Seasons' from a catalogue of albums dating back to the 1940s.
The ensemble prides itself on bringing seldom-heard works to the concert platform, including Vivaldi's operas Ottone in villa, Giustino, Tito Manlio, La Fida Ninfa, Catone in Utica, L'Olimpiade and Teuzzone, and it has recently given the UK premiere of Brescianello's opera pastorale Tisbe for the Buxton International Festival. A host of instrumental rarities feature in the touring repertoire, many of which have been committed to disc.
La Serenissima has appeared at many of the UK's leading festivals including Bath Bach, Beverley, Buxton, Cheltenham, Lichfield, South Bank, Spitalfields, Swansea International, and York Early Music festivals, and venues including St George's Bristol, Snape Maltings, Cadogan Hall, St John's Smith Square and Wigmore Hall. The group has also appeared in Belgium, Estonia, France, Germany, Ireland, Israel, Italy, Malta, Mexico and Spain to great acclaim.
The entire repertoire of La Serenissima is edited by Director Adrian Chandler from manuscript or contemporary printed sources, a testament to its commitment and passion for rare and exciting Italian music; a feat which makes it unique amongst its peers.
During the 2018/19 season, La Serenissima will tour a flagship programme 'The Godfather' to venues around the UK, will perform two bespoke programmes at the Wigmore Hall in London, and will tour to Italy, Germany and Spain.
Upcoming Concerts:
La Serenissima has no upcoming tour dates. Please check back soon.