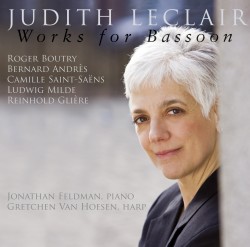 Artists:
Judith Leclair, bassoon
Gretchen Van Hoesen, harp
Jonathan Feldman, piano
Summary:
America's leading lady of the bassoon, New York Philharmonic principal Judith Leclair, steps into the limelight with an awe-inspiring performance of virtuoso chamber works featuring her instrument's distinctive qualities. Joined by two acclaimed American colleagues – Pittsburgh Symphony principal harpist Gretchen Van Hoesen, and eminent chamber pianist Jonathan Feldman – Judith offers a program of late 19th- and 20th-century works linked by French origins or traditions. Undoubtedly an important document for bassoonists, this is also a disc full of discoveries. From Roger Boutry's modernist Interférences I and the Chopin-esque Andante and bravura Polonaise by the relatively obscure German bassoonist Ludvig Milde, to Bernard Andrès' nostalgic Chants D'arriere-Saison ("Songs of a Season Past"), Camille Saint-Saëns' magical Sonata and Reinhold Glière's irresistible encore Humoresque¸ Judith Leclair and friends are sure to keep the bassoon to the fore.
Tracklist:
Roger BOUTRY (b. 1932)
1. Interfences I (9:02)
Bernard ANDRÈS (b. 1941)
2. – 8. Chants D'arriere-Saison (18:05)
Camille SAINT-SAËNS (1835 – 1921)
9. – 11. Sonata (12:35)
Ludvig MILDE (1849 – 1913)
12. – 13. Andante and Rondo, Op. 25 (9:11)
14. Polonaise (7:14)
Reinhold GLIÈRE (1875 – 1956)
15. Humoresque (2:19)
Total time: 58:29
Recorded February 2007 through June 2008 at Bicoastal Music, Ossining, NY
Produced, engineered and edited by Daryl Bornstein
Reviews: