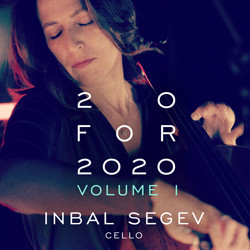 Summary:
The convergence of cataclysmic events of 2020 spurred cellist Inbal Segev to conceive a creative project like no other: commissioning 20 composers to document in music their responses to these challenging times, a gesture both to support her fellow musicians and to provide solace to audiences. The result, 20 for 2020, is an utterly inspirational and immensely varied palette of strong and distinctive compositional voices spanning a range of ages, genders and cultures, reflecting by turns the darkness of the pandemic, the BLM movement, isolation and contemplation. Collectively the works celebrate a stunning array of music for the soulful sound of the cello in the 21st century.
The first of four digital EPs to be released over the coming months, the range of styles and inspirations on Volume I is representative of the totality of 20 for 2020. Opening with Cello Concerto by two-time Latin Grammy Award-winner Fernando Otero, his work – scored for solo cello, string quartet and double bass – blends contemporary classical with music of his Argentinian homeland, infused with elements of tango and jazz. Joining forces with the Brooklyn Rider quartet was one of Inbal's first collaborations after months of solitude.
Michigan-born James Lee III contributes Ekah, meaning "how" in Hebrew as well as a reference to the bible's Book of Lamentations. Scored for cello and piano, the work is Lee's combined response to the pandemic and the killings and events of summer 2020, with the cello emulating the sensation of a mournful cry.
Pulitzer Prize finalist, Brooklyn-based composer Timo Andres, who previously penned a cello concerto for Inbal, describes his Agita for cello and piano as "a compact, intense piece – a kind of intense little scherzo," characterising it (tongue in cheek) as "perfect music for a relaxing evening at home sitting by the fire, maybe with a little scotch."
Fulbright Grant recipient, Chicago-based composer Sophia Bass draws on her mother's Indian heritage for Taal-Naad Naman, a Sanskrit phrase meaning "the coming together of musical sound and rhythm to give pranaam (honour) to God." Scored for cello, tabla and tanpura, the work finds Inbal improvising and utilising techniques typical of eastern music which remind her of her native Israel.
Volume 1 of 20 for 2020 concludes with Lacrymae by Long Island-based composer-pianist Bruce Wolosoff, whose many works for cello include a Top 10 Billboard charting cello concerto. His highly poignant work fuses four cello parts, all of which Inbal plays and overdubs on the recording.
Tracklist:
FERNANDO OTERO (b. 1972)
1. Concerto for Cello and String Orchestra: I. Molto appassionato
with Brooklyn Rider Quartet and Bassist Xavier Foley
JAMES LEE III (b. 1975)
2. Ekah for cello and piano
with pianist Anna Polonsky
TIMO ANDRES (b. 1985)
3. Agita for cello and piano
with the composer at the piano
SOPHIA BASS (b. 1996)
4. Taal-Naad Naman for cello, tabla and tanpura
with Vivek Pandya on Tabla and Mari Tanaka playing the Tanpura
BRUCE WOLOSOFF (b. 1955)
5. Lacrymae for four cellos
Inbal Segev, cello
Recorded Oktaven Audio Studios, Mount Vernon, New York
October 14, 2020 (Otero and Wolosoff)
December 19, 2020 (Lee)
February 27, 2021(Andres)
April 10, 2021 (Bass)
Producer: Ryan Streber