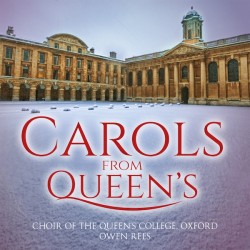 Artists:
Choir of the Queen's College, Oxford
Owen Rees, director
Harry Meehan and Rebecca Baker, organ scholars
Summary:
The Choir of the Queen's College, Oxford is one of the world's most renowned choral institutions. Carols from Queen's presents the choir in all its luxuriant glory. This blockbuster holiday album celebrates the Choir's illustrious history, and offers some of the most beloved carols from throughout the ages.
Several of the composers and arrangers of the popular carols featured on this album had associations with The Queen's College. This is truly 'Carols from Queen's'.
The Boar's Head Carol is the work most strongly associated with the heritage of the College. It originated in the 14th century at Queen's and has been sung every year since at the Christmas time Boar's Head Feast in the College Hall.
Kenneth Leighton (Lully, lulla, thou little tiny child) and Herbert Howells (A spotless Rose), two prominent 20th-century British composers of sacred choral music, both studied at The Queen's College.
Harold Darke (In the bleak midwinter) and Ivor Atkins (The Three Kings) were both members of Queen's.
Atkins's ever-popular arrangement of The Three Kings appeared in the much-used anthology Carols for Choirs I, compiled in part by Reginald Jacques, a student at Queen's who become Organist of the College from 1926 – 1936, and a Fellow. Several best-loved carols from this volume are featured on this album.
Rounding out Carols from Queen's are such popular favorites as O Holy Night, Coventry carol, O Come all Ye Faithful, and many more.
Tracklist:
1. John Tavener (1944 – 2013) O do not move (1:51)
2. Trad. Basque Carol, arr. Jim Clements (b. 1983) Gabriel's message (3:07)
3. Arr. Andrew Carter (b. 1939) Angelus ad virginem (3:05)
4. Herbert Howells (1892 – 1983) A spotless rose (3:21)
5. Philip Stopford (b. 1977) Lully, Lulla, Lullay (4:18)
6. Adolf Adam (1803 – 1856), arr. John Rutter (b. 1945) O Holy Night (5:53)
7. Felix Mendelssohn (1809 – 1847), arr. David Willcocks(b. 1919) Hark! The herald angels sing (3:15)
8. Peter Warlock (1894 – 1930) Bethlehem Down (4:43)
9. Howells Sing lullaby (3:28)
10. Trad., arr. Ralph Vaughan Williams (1872 – 1958) and Thomas Armstrong (1898 – 1994)
O little town of Bethlehem (3:49)
11. Anon. (from Piæ cantiones, 1582) Gaudete (1:37)
12. Harold Darke (1888 – 1976) In the bleak midwinter (4:41)
13. Arr. Martin Shaw (1875 – 1958) Coventry carol (2:23)
14. 16th-century French tune, arr. Charles Wood (1866 – 1926) Ding dong merrily on high (2:02)
15. Tavener The Lamb (3:39)
16. Trad. (The Queen's College, Oxford) The boar's head carol (1:28)
17. Kenneth Leighton (1929 – 1988) Lully, lulla, thou little tiny child (3:21)
18. Hector Berlioz (1803 – 1869) The Shepherds' Farewell (5:25)
19. Jonathan Dove (b. 1959) Welcome all wonders (4:24)
20. Peter Cornelius (1824 – 1874), arr. Ivor Atkins (1869 – 1953) The three kings (2:34)
21. Trad., arr. David Willcocks Sussex carol (1:47)
22. Arr. David Willcocks O come all ye faithful (4:10)
Total time: 74:23
Recorded January 2015, Keble College Chapel Oxford
Producer: Adrian Peacock