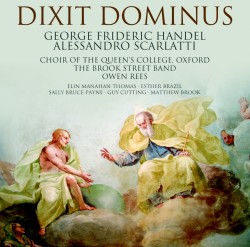 Artists:
Choir of The Queen's College, Oxford
Owen Rees, director
The Brook Street Band
Elin Manahan Thomas, soprano
Esther Brazil, soprano
Sally Bruce-Payne, contralto
Guy Cutting, tenor
Matthew Brook, bass-baritone
Summary:
Following five critically-acclaimed and immensely popular recordings for AVIE, The Brook Street Band embark on their most ambitious project to date: a recording with the estimable student Choir of The Queen's College, Oxford, that pairs for the first time ever the two settings of the Dixit Dominus written by Alessandro Scarlatti and George Frideric Handel. Both works date from early 18th century Rome, Handel's within a year of his arriving in the musical capital, and possibly influenced by Scarlatti's work, though the date of the elder Italian's composition is not precisely known. Indeed it has been suggested that the 22-year-old Lutheran was attempting to outdo Scarlatti with his masterly grasp of large-scale sacred music for the Roman rite. In between these two grand Vespers, The Brook Street Band serve up a palette cleanser of an instrumental concerto in G minor by Scarlatti.
On this recording the massed forces are joined by five of Britain's brightest young singers: soprano Elin Manahan Thomas, mezzo-sopranos Esther Brazil and Sally Bruce-Payne, tenor Guy Cutting, and bass-baritone Matthew Brook.
Tracklist:
Alessandro SCARLATTI (1660 – 1725)
Dixit Dominus
1 I. Dixit Dominus (2:58)
2 II. Virgam virtutis tuæ (2:32)
3 III. Tecum principium (3:26)
4 IV. Juravit Dominus (3:12)
5 V. Dominus a dextris tuis (2:22)
6 VI. Judicabit in nationibus (2:08)
7 VII. De torrente (3:06)
8 VIII. Gloria Patri (4:27)
Concerto No. 4 in G minor
directed from the violin by Rachel Harris
9 I. Allegro (2:13)
10 II. Grave (2:07)
11 III. Vivace (1:01)
George Frideric HANDEL (1685 – 1759)
Dixit Dominus, HWV 232
12 I. Dixit Dominus (5:34)
13 II. Virgam virtutis tuæ (2:49)
14 III. Tecum principium (3:02)
15 IV. Juravit Dominus (2:20)
16 V. Tu es sacerdos (1:40)
17 VI. Dominus a dextris tuis (6:35)
18 VII. De torrente (4:08)
19 VIII. Gloria Patri (6:38)
Total time: (62:28)
Recorded: 7 – 9 January 2013, Church of St Michael and All Angels, Oxford
Producer: Adrian Peacock
Engineer: David Hinitt