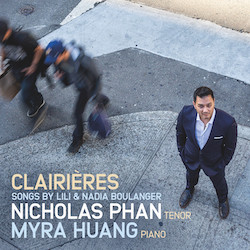 Summary:
Nominee: Best Classical Solo Vocal Album - 63rd Grammy Awards 2021
"[Phan] is an outstanding interpreter of French song, and Huang is an equally attentive partner. It's hard to imagine these Boulanger songs could have more convincing advocacy." – The Guardian
"On this lovely recording, the tenor Nicholas Phan performs elegant songs by both sisters" – The New York Times (Best 25 Classical Music Tracks of 2020)
"Phan delivers a more emotionally comprehensive (and deeply welcome) vision of this worthy music." – Gramophone
"Phan possesses notable changes of color, with some magical high singing…with Huang's warm pianism, there is much to cherish, especially in this searching performance of Clairiéres. Phan's disc is an ideal introduction to this repertoire" – BBC Music Magazine ★★★★
"a beautiful performance…it suits Nicholas Phan's voice very well…he sounds, particularly in the soft singing, very, very fine throughout, as does his pianist, Myra Huang" – BBC Radio 3, Record Review
"Here, Phan beautifully caresses the surface of Francis Jammes' verses, supported by smooth, liquid pianism that never overpowers…in the Fauré-like Cantique by Nadia Boulanger, Phan finds the halo of light and patina-like contours of an old stained-glass window…" – Diapason
"From a musical point of view, the album is notable for the high quality of the performance and for an interpretative attention to detail shown both by Nicholas Phan and Myra Huang, and a deep internalization of the compositions. It is ultimately a truly refined album" – Opera

The selections on this album are songs that both Nadia and Lili Boulanger were composing during these years leading up to and immediately after their respective successes at the Prix de Rome. While both sisters' compositional careers were cut short for different reasons, these songs give a glimpse into both composers' trajectories and aesthetics. Nadia and Lili also created orchestral versions of many of these songs, showing that these women were honing their compositional techniques for larger forces: a clear sign they were determined to compose for all genres, just like their male counterparts. These songs clearly demonstrate both the development and mastery of their techniques during these early years, as they endeavored to carry on the traditions of French classical music that had been redefined in the early years of the belle époque.
In his book, Mademoiselle: Conversations with Nadia Boulanger, Bruno Monsaingeon quotes Nadia describing her younger sister as 'the first important woman composer,' and musing 'I wonder why there is a certain reluctance to acknowledge her place in history.' In much of the press surrounding both women's successes with the Prix de Rome, much of the focus was on their gender, as opposed to the music that they wrote. There was focus on their attractive appearance, and in the case of Lili, wonderment at how such a seemingly frail young woman could achieve such an accomplishment. As in all movements, the tokenism of identity can obliterate the actual work of the artist, and it seems that such was the case for both Nadia and Lili. In blazing trails for women, the excellence of their work was lost in the smoke left in their wake. The compositional mastery and expressive beauty of their music are lost to anecdote: rather than have her music enter the canon of the standard repertoire (where it belongs), Lili is remembered as the first woman who did a thing. Nadia, not having had the support that her sister had in the years following her second-place finish, eventually suffered a crisis of faith and gave up composing completely, only to be remembered via the famous male composers who were her pupils.
This recording is meant to be a testament to the beautiful work of these two extraordinary women who changed the course of music history. Of course, that they broke ground for women in a time of social upheaval is inextricable from both their story and their music. But I hope this recording will help shift the focus away from their gender and anecdotal significance, and instead towards the deeply-layered beauty and artistic excellence of their music.
Tracklist:
NADIA BOULANGER (1887–1979)
1. Versailles Albert Victor Samain 3.03
Selected settings of Maurice Maeterlinck
NADIA BOULANGER
2. Heures ternes 2.49
LILI BOULANGER (1893–1918)
3. Reflets 2.42
4. Attente 1.50
NADIA BOULANGER
5. Cantique 2.01
Two settings of Paul Verlaine
NADIA BOULANGER
6. La mer est plus belle 2.41
7. Soleils couchants 2.36
LILI BOULANGER
Clairières dans le ciel Francis Jammes
8. Elle était descendue 1.41
9. Elle est gravement gaie 1.36
10. Parfois, je suis triste 3.13
11. Un poète disait 1.48
12. Au pied de mon lit 2.11
13. Si tout ceci n'est qu'un pauvre rêve 2.05
14. Nous nous aimerons tant 2.48
15. Vous m'avez regardé avec toute votre âme 1.40
16. Les lilas qui avaient fleuri 2.39
17. Deux ancolies 1.28
18. Par ce que j'ai souffert 2.21
19. Je garde une médaille d'elle 1.31
20. Demain fera un an 6.25
NADIA BOULANGER
21. Soir d'hiver Nadia Boulanger 3.22
Total duration: 53.17
Nicholas Phan, tenor
Myra Huang, piano
Recorded 19–20  June, 2019 at Skywalker Sound, Marin County, California
Producer, engineer, mixing and mastering: Marlan Barry