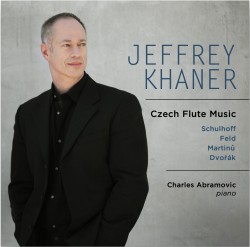 Artists:
Jeffrey Khaner, flute
Charles Abramovic, piano
Summary:
Jeffrey Khaner, Principal Flute of the Philadelphia Orchestra since 1990, is one of the most highly regarded flute soloists in the world. With half a dozen Avie recordings to his credit, he turns in another virtuosic performance of sonatas by Czech composers of the late 19th and 20th centuries. Dvořák's familiar Sonatina and Martinů's first Flute Sonata were both written during the composers' time in America and exhibit their respective influences, in Dvořák's case the native American and Negro spirituals that he assimilated into so many of his later works, in Martinů an overt optimism and bird song he encountered during a Massachusetts retreat. 20th century composer Jindřich Feld spent much time teaching in America; his bravura Flute Sonata of 1957 was dedicated to Jean-Pierre Rampal. Schulhoff never set foot in America but embraced jazz, a style heard throughout his Flute Sonata.
Tracklist:
Erwin SCHULHOFF (1894 – 1942)
Sonata for Flute and Piano
1. I Allegro moderato (4:15)
2. II Scherzo (1:31)
3. III Aria (2:46)
4. IV Rondo-Finale (2:41)
Jindřich FELD (1925 – 2007)
Sonata for Flute and Piano
5. I Allegro giocoso (4:41)
6. II Grave (7:00)
7. III Allegro vivace (5:53)
Bohuslav MARTINŮ (1890 – 1959)
Sonata No. 1 for Flute and Piano
8. I Allegro moderato (7:08)
9. II Adagio (5:54)
10. III Allegro poco moderato (5:35)
Antonín DVOŘÁK(1841 – 1904)
Sonatina in G major for Flute and Piano
11. I Allegro risoluto (5:43)
12. II Larghetto (3:39)
13. III Molto vivace (3:11)
14. IV Allegro molto (5:55)
Total Time: 65:15
Recording Producer and Engineer: Da-Hong Seetoo
Recorded June 8 – 11, 1999, at the Curtis Hall, Philadelphia, PA
Reviews:
MusicalAmerica.com - Read here...