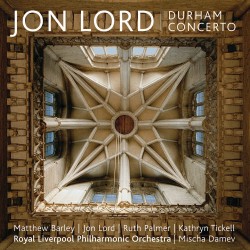 Title:
Jon Lord: Durham Concerto
Artists:
Matthew Barley, cello
Jon Lord, Hammond organ
Ruth Palmer, violin
Kathryn Tickell, Northumbrian pipes
Royal Liverpool Philharmonic Orchestra
Mischa Damev, conductor
DOWNLOAD AND STREAM
Summary:
"Jon Lord has concentrated on composition since leaving Deep Purple. Lord's music is compellingly sonorous, his programmatic narratives are crystal-clear, and the Royal Liverpool Philharmonic play with passion and tenderness." – Gramophone
"The audience rose spontaneously at the final climax" – The Independent
—
The magnificent Norman cathedral on the rock, part of the World Heritage site shared by Durham University and Durham Cathedral, was the setting for the world premiere of Jon Lord's "Durham Concerto" commissioned by the University to commemorate its 175th anniversary. The 1,000 strong audience rose spontaneously to its feet as the final climax reflected Sir Walter Scott's vision, which is engraved on "Prebends Bridge: "Grey Towers of Durham/Yet well I love thy mixed and massive piles/ Half church of God, half castle 'gainst the Scot". The work emotionally evokes the sense of history, scholarship, place and community evident in Durham – an unbroken line from St Cuthbert and the Venerable Bede, Europe's leading scholar of the 7th and 8th centuries, to the modern day university. Jon Lord, known to all for "Smoke On The Water" and as the driving force behind Deep Purple, was classically trained and has returned to his roots. Durham Concerto cements his position as a leading contemporary composer. Each of its six movements in this hour long piece reflects a different aspect of a day in Durham. The serene "The Cathedral At Dawn" has undertones of Vaughan Williams in its expansiveness, while "Ragas and Galas" celebrates town and gown, using Bernsteinian rhythms and interruptions of "Gaudeamus Igitur". Northumbrian pipes, played by its world's leading exponent, Kathryn Tickell, give a true sense of North-East wilderness and melancholy to "The Road From Lindisfarne", reflecting the pilgrimage by the Cuthbert Community, carrying St Cuthbert's body and the Lindisfarne gospels, one of the world's great treasures, to found Durham Cathedral in the 11th century. The Royal Liverpool Philharmonic under Mischa Damev perform the work along with an array of world class soloists: violinist Ruth Palmer who won the Young British Performer award at the 2008 Classical Brit Awards, cellist Matthew Barley, Kathryn Tickell on the Northumbrian pipes, and, of course, Jon Lord on his original Hammond organ, one of the very few occasions that such an evocative instrument has been used in an orchestral setting. Jon Lord's "Durham Concerto" is a contemporary classic.
Tracklist:
JON LORD (1941-2012)
Durham Concerto
Part 1: Morning
1. The Cathedral at Dawn (11:31)
2. Durham Awakes (8:25)
Part 2: Afternoon
3. The Road from Lindisfarne (7:18)
4. From Prebends Bridge (8:27)
Part 3: Evening
5. Rags & Galas (8:25)
6. Durham Nocturne (12:11)
Total time: 56:29
Recorded 18 and 19 July 2007 at the Philharmonic Hall, Liverpool, England
Producer and engineer: Jonathan Stokes
Recording editors: Ian Watson and Jenni Whiteside