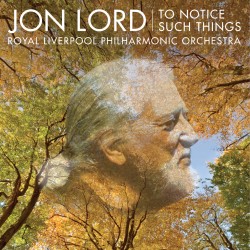 Title:
Jon Lord – To Notice Such Things
Artists:
Royal Liverpool Philharmonic Orchestra
Clark Rundell, conductor
Jon Lord, piano
Cormac Henry, flute
Thelma Handy, leader
Summary:
Classically trained from the age of 7, composer and keyboard player Jon Lord was diverted for over 40 years with his involvement in the rock group Deep Purple during which time he penned such rock anthems as Smoke on the Water and Child in Time. He returned to full-time classical composing in 2002 and five years later achieved great acclaim and sales success for his Durham Concerto (AV 2145), which made the top 10 in the UK's Classical Artist Chart and was the highest new entry (number 75) in Classic FM's 2009 Hall of Fame.
"To Notice Such Things", the follow up album to Durham Concerto, is a collection of four newly-recorded orchestral works featuring Jon himself on piano. The title work is written as a six-movement suite for solo flute, piano and string orchestra. It is a poignant tribute to Jon's long time friend, the late John Mortimer, QC. Literary references abound, appropriately for the creator of Rumpole of the Bailey. The music emanates from the stage show, Mortimer's Miscellany, which Lord accompanied. To Notice Such Things is the last line of the Thomas Hardy poem "Afterwards", which ended Mortimer's show.
The first movement, As I Walked Out One Evening, from the W H Auden poem of the same name, opened the revue.
The second movement, At Court, captures the 60s and 70s heyday of the free-speaking barrister, whilst Turville Heath, evokes the raconteur reposing in his well-tended garden. The peculiarly named The Stick Dance refers to the days when Mortimer's legs were failing him; he still loved a good jive but mainly observed the jiving of a female companion whilst supporting himself on his stick. The Winter of a Dormouse is a twist on Lord Byron's Summer of a Dormouse, which describes the indignity of ageing. Mortimer had chosen the diminutive creature to appear on his coat of arms when appointed a Knight of the realm. The work ends with Afterwards, a fitting mirror image to Mortimer's Miscellany.
Jon Lord played To Notice Such Things at Mortimer's memorial service in November 2009, in front of an illustrious audience that included the Duchess of Cornwall, members of the Mortimer family, Lord Mandelson, Neil Kinnock, Jeremy Paxman, Alan Rickman, Peter O'Toole, Sir Tom Stoppard and Jeremy Irons who closes the album with his reading of the poem "Afterwards. This recording will serve as the lasting memento of a great, beloved English eccentric.
The album proceeds with a gorgeous instrumental arrangement of Jon's Evening Song – the original version appears on his best-selling album Pictured Within – here substituting the vocal line with the mellow strains of alto flute and horn conjuring a gentle summer sunset. The next track, For Example, combines clever puns with heartfelt homage. Written for the Trondheim Soloists, it's a nod towards one of Jon's favourite composers, Edvard Grieg, whose initials provide the play on words of the title. An early piano teacher introduced Jon to the great Norwegian composer, whose charming and folksy Wedding Day at Troldhaugen is woven into the fabric of the work. Air on a Blue String follows, a blues-meets-Bach fusion delivered with heart and soul. The album ends with Jeremy Irons' noble reading of the poem "Afterwards".
Jon's music easily joins a tradition of great English composition of the last century. It is visceral and direct, deeply touching to anyone who hears it. To Notice Such Things is a window into Jon's humanity, his observance of life's cycles, and his generous spirit which will spread far and wide through his compositions.
Tracklist:
Jon LORD (b. 1941)
To Notice Such Things
In memoriam Sir John Mortimer, CBE, QC (1923 – 2009)
1. As I Walked Out One Evening (4:15)
2. At Court (5:33)
3. Turville Heath (3:01)
4. Stick Dance (4:45)
5. Winter of a Dormouse (5:33)
6. Afterwards (3:56)
7. Evening Song (8:16)
8. For Example (9:12)
Dedicated to Øyvind Gimse and The Trondheim Soloists
9. Air on a Blue String (6:33)
Dedicated to Matthew Barley
10. "Afterwards" by Thomas Hardy
Read by Jeremy Irons
Jon Lord, piano
Total time: 54:25
Recorded 30 September – 1 October 2009, The Friary, Liverpool
Producer: John Fraser
Engineer: Phil Hobbs
Reviews:
The Daily Telegraph - Read here...