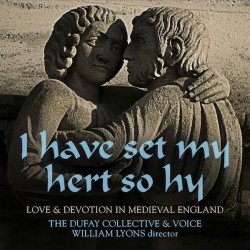 Artists:
The Dufay Collective
Voice – vocal trio
Summary:
Grammy-nominated The Dufay Collective has been performing and recording its unique brand of early music for nearly three decades, winning awards and wide-spread critical acclaim along the way. I Have Set My Hert So Hy marks the group's return to the recording studio with a collection of 15th century songs and instrumental numbers, much of which has been expertly reconstructed by the ensemble's director William Lyons.
On this recording, The Dufays collaborate with vocal trio Voice, recreating the essence of music written for and heard in the royal courts and religious houses of Medieval England.
Tracklist:
1.Blowe, northerne wynd (Lyons) (4.01)
Source: London, British Library, Harley MS 2253, f.72v [lyric only]
2. I have set my hert so hy (Anon.) (2.52)
Oxford, Bodleian Library, MS Douce 381, f.20
3. Plus pur l'enoyr (Anon.) (2.14)
Cambridge University Library, Add. MS 5943, f.163v
4. Bryd one brere (Anon., arr. Lyons) (2.54)
Cambridge, King's College, Muniment Roll 2 W.32v
5. Le grant pleyser (Anon.) (2.37)
Cambridge University Library, Add. MS 5943, f.165v
6. Maiden in the mor lay (Lyons) (5.01)
Oxford, Bodleian Library, MS Rawlinson D.913, flyleaf [lyric only]
7. Wel wer hym that wyst (Anon.) (3.12)
Cambridge University Library, Add. MS 5943, f.162v
8. Esperance (Anon.) (2.24)
Cambridge University Library, Add. MS 5943, f.165r
9. Adam lay ibowndyn (Lyons) (2.26)
MS Sloane 2593, ff.10v–11 [lyric only]
10. Danger me hath, unskylfuly (Anon.) (1.30)
Cambridge University Library, Add. MS 5943, f.166r
11. Alysoun (Lyons) (6.21)
London, British Library, Harley MS 2253, f.63v [lyric only]
12. Ye have so longe kepe schepe (Anon.) (4.22)
Oxford, Bodleian Library, MS Douce 381, f.20v
13. With ryth al my herte (Anon.) (4.29)
Oxford, Bodleian Library, MS Douce 381, f.22
14. Nowel: owt of youre sleep aryse (Anon.) (4.37)
Oxford, Bodleian Library, MS Arch. Selden B 26, f.14v
15. I rede that thu be joly and glad (Anon.) (1.57)
Oxford, Bodleian Library, MS Douce 381, f.22v
16. I syng of a myden (Anon. arr. Lyons) (4.05)
MS Sloane 2593, ff.10v–11 [lyric only]
17. Hayl Mary ful of grace (Anon.) (4.11)
Oxford, Bodleian Library, MS Arch. Selden B 26, f.23r
18. Ave Maria I say (Anon.) (3.19)
Cambridge University Library, Add. MS 5943, f.168r–168v
19. Corpus Christi Carol (Lyons) (4.24)
Oxford, Balliol Library, MS 354, folio 165v [lyric only]
20. Gresley Dances (Anon., arr. Lyons) (9.16)
I. Ly bens distonys

II. Trobyll me the bordon

III. Eglamour
IV. Alas the herd whill that I coth dans
V. This enderis day

VI. Ly bens distonys [reprise]
Matlock Record Office, D77 BOX 38 [Gresley], pp 51–79
Total time: 76.12
Recorded December 16-20, 2014 at Church of St Michael & All Angels, Summertown, Oxford
Producer: Adrian Hunter