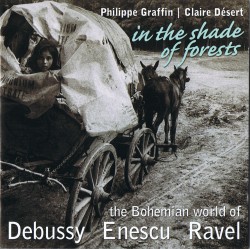 Artists:
Phillipe Graffin, violin
Claire Désert, piano and luthéal
Summary:
Philippe Graffin provided one of Avie's landmark releases, the world-premiere recording of Samuel Coleridge-Taylor's Violin Concerto (AV 0044). He returns with a more intimate but equally innovative disc devoted to works from his homeland. The figureheads of French impression – Debussy and Ravel – are paired with Impressions by the revelatory Romanian George Enescu, for whom Paris was like a second home.
Graffin, a multiple Gramophone Editor's Choice artist, offers some popular melodies in unfamiliar guises. A trio of Debussy miniatures – Minstrels, Il Pleure dans mon Coeur, and La fille aux cheveux de lin – are heard in arrangements by Hungarian violinist Arthur Hartmann, a close friend of the composer. Ravel's Tzigane is heard here with the original instrument it was written for, the prepared-piano sounding lutheal, using the last known instrument (from 1922) which is housed in the Musical Instrument Museum in Brussels.
Gramophone Editor's Choice
Tracklist:
George ENESCU (1881 – 1955)
1. – 10. Impressions d'enfance, Op. 28 (22:01)
Maurice RAVEL (1875 – 1937)
11. Tzigane – Rapsodie de concert for violin and luthéal (original version) (10:41)
12. Sonata, Op. posthumous (12:37)
Claude DEBUSSY (1862 – 1918)
13. Nocturne et Scherzo (re-adaptation by Phillipe Graffin) (4:11)
14. Il pleure dans mon Coeur (trans. A Hartmann, 1908 and 1943) (3:04)
15. La fille aux cheveux de lin (trans. A Hartmann, 1910) (2:27)
16. Minstrels (trans. Debussy, 1914) (2:22)
17. – 19. Violin Sonata (13:14)
20. Beau Soir (trans. A Hartmann, 1941) (2:14)
Total time: 73:16
Recorded 4 & 5 September 2004, at Doopsegezinde Kerk, Deventer, and 6 September 2004 (track 11), at Musical Instrument Museum, Brussels
Recording Producer and Sound Engineer: Tom Peeters
Reviews:
MusicWeb - Read here...