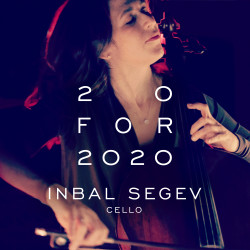 Composer:
Adolphus Hailstork, Agata Zubel, Angélica Negrón, Anver Dorman, Bruce Wolosoff, Camille El Bacha, Christopher Ceronne, Christopher Tyler Nickel, Fernando Otero, Gloria Coates, Immanuel Wilkins, Inbal Segev, James Lee III, John Luther Adams, Molly Joyce, Oscar Bettison, Sophia Bass, Stewart Goodyear, Timo Andres, Viet Cuong, Vijay Iyer
DOWNLOAD AND STREAM
Summary:
"most ambitious in its range – the whole concept given focus by the artistry of Inbal Segev … this labour of love has an ambition matched by its achievement" – Gramophone
"There was not a single track on this double CD set that I was not moved by. There is a richness to the selections that are innovative and challenging, but still beautifully accessible … essential listening for any lover of contemporary classical music … That so many of these works will surely be iconic mainstays of the contemporary cello repertoire, for those who dare to take them on, is a testament to the leadership and investment in the cello repertoire from this great artist." – The Whole Note

The convergence of cataclysmic events of 2020 spurred cellist Inbal Segev to conceive an ambitious and inspirational commissioning project, 20 for 2020, for which she asked 20 composers to document in music their responses to the challenges posed by the pandemic and social unrest. The result is an utterly moving and immensely varied palette of strong and distinctive compositional voices spanning a range of ages, genders and cultures.
Originally released over time as four digital EPs, all 20 compositions come together for the first time in a 2CD deluxe digipack and are capped by the premiere of Inbal's own work, Behold for cello quartet.
When Inbal conceived 20 for 2020, she could not have foreseen the scope of musical imagination from the 20 composers she asked to write works for her. Further pronouncing her passion for promoting new works for her instrument: "Art needs to move forward, otherwise it will die." Collectively these compositions celebrate a stunning array of music for the soulful sound of the cello in the 21st century.
Tracklist:
CD 1 / 64.41
VIET CUONG (b.1990)
1. ROOM TO MOVE for cello octet 4.14
octet overdubbed:
parts 1, 3, 5, 7 cello by Francesco Ruggieri, 1673
parts 2, 4, 6, 8 cello by Carl Becker & Son, 1957
FERNANDO OTERO (b.1972)
2. CONCERTO FOR CELLO AND STRING ORCHESTRA: I. Molto appassionato 7.00
Brooklyn Rider: Johnny Gandelsman, Colin Jacobsen violins Nicholas Cords viola
Michael Nicolas cello Xavier Foley double bass
JAMES LEE III (b.1975)
3. EKAH for cello and piano 7.25
Anna Polonsky piano
TIMO ANDRES (b.1985)
4. AGITA for cello and piano 5.44
Timo Andres piano
SOPHIA BASS (b.1996)
5. TAAL-NAAD NAMAN for cello, tabla and tanpura 7.33
Mari Tanaka tanpura · Vivek Pandya tabla
BRUCE WOLOSOFF (b.1955)
6. LACRYMAE for cello choir 4.26
AVNER DORMAN (b.1975)
7. ELEGY FOR THE VICTIMS OF INDIFFERENCE for cello and accordion 6.25
Julien Labro accordion
VIJAY IYER (b.1971)
8. THE WINDOW for cello and piano 9.58
Vijay Iyer piano
CHRISTOPHER CERRONE (b.1984)
9. THE PLEASURE AT BEING THE CAUSE for cello and piano 6.28
Timo Andres piano
ANGÉLICA NEGRÓN (b.1981)
10. RUTA PANORÁMICA for cello, bandoneón and electronics 5.24
Julien Labro bandoneon
CD 2 / 61.52
JOHN LUTHER ADAMS (b.1953)
1. A WEEPING OF DOVES for 8 cellos 5.24
ADOLPHUS HAILSTORK (b.1941)
2. HORA for cello and marimba 6.10
Ian Rosenbaum marimba
GLORIA COATES (b.1938)
3. BERCEUSE for cello solo 2.46
AGATA ZUBEL (b.1978)
4. UNISONO III for voice, cello and electronics 6.10
Charlotte Mundy voice
CHRISTOPHER TYLER NICKEL (b.1978)
5. FRACTURES OF SOLITUDE for cello octet and winds 5.49
Christopher Tyler Nickel oboe d'amore, cor anglais, bass oboe
MOLLY JOYCE (b.1992)
6. IT HAS NOT TAKEN LONG for cello & electronics 6.09
CAMILLE EL BACHA (b.1989)
7. DANCE BETWEEN THE WORLDS for piano trio 7.21
Jennifer Frautschi violin · Camille El Bacha piano
OSCAR BETTISON (b.1975)
8. LA HIJA DEL NÉON for cello, piano & electric guitar 5.53
Conrad Tao piano · Oren Fader electric guitar
IMMANUEL WILKINS (b.1998)
9. EXHALE for solo cello 5.58
STEWART GOODYEAR (b.1978)
10. THE KAPOK for cello & piano 5.36
Stewart Goodyear piano
INBAL SEGEV (b.1973)
11. BEHOLD for cello quartet 4.32
Caleb van der Swaagh, Karen Ouzounian, Brook Speltz cellos
Inbal Segev, cello
Recorded: 14 October (Otero,Wolosoff) & 19 December (Lee III) 2020;
27 February (Andres), 10 April (Bass), 1 May (Iyer), 22 May (Cuong), 1 June (Cerrone), 17 June (Dorman, Negrón),
20 (Nickel, Joyce), 29 (Adams, Coates) September, 26 October (Zubel) & 5 November (Hailstork) 2021;
25 January (El Bacha), 12 April (Goodyear), 7 June (Bettison) & 2 July (Wilkins) 2022;
Oktaven Audio, Mount Vernon, New York
Producer, Recording Engineer, Mixing and Mastering: Ryan Streber
Editing: Ryan Streber & Charles Mueller; with Edwin Huet (Otero, Lee III,Andres, Bass,Wolosoff)
Assistant Engineers (Joyce, El Bacha, Bettison,Wilkins, Goodyear): Charles Mueller & Edwin Huet