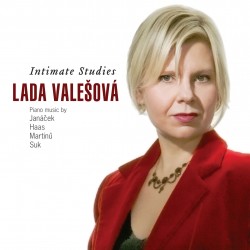 Summary:
Intimate Studies is the innovative debut release from Czech pianist Lada Valešová who developed a fresh and intriguing programme of works that link both teacher and student alike during the early part of the 20th century. The CD features 20th century piano music composed by four of her native country's leading composers: "In the Mist" (Janáček), "Suite for Piano Op.13" and "Allegro Moderato" (Haas), "Film en Miniature H.148" (Martinů) and "Spring Op.22a" (Suk).
Of particular note is the performance of a rare collection of eleven tone poems and studies, some complete miniature works, some unfinished kernels of ideas written by Janacek under the collected title: "Intimate Studies".
Born in Pilsen in the Western part of the Czech Republic, Lada Valešová is a leading young concert pianist in Europe. She is a graduate of Prague Conservatoire and Prague Music Academy
and studied at the Guildhall School of Music and Drama in London where she was awarded a full three-year scholarship. Lada has won several prizes including two awards at the International Smetana Piano Competition. Her teachers include the Russian pianist and pedagogue Valentina Kameníková and Eugene Indjic, the outstanding pianist and pupil of Arthur Rubinstein. Lada's piano playing has received high recognition from various artists including the late Sir George Solti and she has had the honour of working with Galina Vishnevskaja and Mstislav Rostropovich.
Lada Valešová is currently a professor at the Guildhall School of Music and Drama, London, UK.
Tracklist:
Leoš JANÁCEK (1854 – 1928)
In the Mist – piano cycle in four movements
1. Andante (3:57)
2. Molto adagio (4:26)
3. Andantino (2:33)
4. Presto (5:26)
Intimate Studies
5. Palace of the "Malá Strana" (1:27)
6. Without Title (0:41)
7. Melody (0:24)
8. Merely Blind Fate? (0:56)
9. So That One Could Never Return (0:57)
10. Golden Ring (0:17)
11. I Am Waiting for You (0:46)
12. In Remembrance (1:18)
13. To My Olga (0:40)
14. Cradle Song (1:01)
15. Lord Jesus Christ Is Born (0:45)
Pavel HAAS (1899 – 1944)
Suite for Piano, Op. 13 (1935)
16. Praeludium (2:16)
17. Con molta espressione (2:53)
18. Danza (2:26)
19. Pastorale (3:25)
20. Postludium (3:02)
21. Allegro moderato (1:49)
Bohuslav MARTINU (1890 – 1959)
Film en Miniature
22. Tango (2:33)
23. Scherzo (1:44)
24. Berceuse (3:04)
25. Valse (2:26)
26. Chanson (1:24)
27. Carillon (1:33)
MARTINU
28. Spring (3:43)
Josef SUK (1874 – 1935)
Spring
29.Spring (5:55)
30. Breeze (1:57)
31. Awaiting (3:34)
32. *** (As Titled by Suk) (2:32)
33. Longing (3:37)
Total time: 75:27
Recorded April 27-29 2008 at St.George's Bristol, England
Recording produced, engineered and edited by Simon Fox-Gál
Piano technician: Chris Farthing