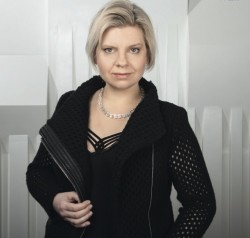 Biography:
'You have to take your hat off to someone who can plan a recital CD with the imaginative insight of the investigative musicologist and then execute it with such musicianly sensitivity' (International Piano on Lada Valešová's 'Intimate Studies' album for AVIE).
Lada Valešová graduated from the Prague Conservatoire and Prague Music Academy, followed by London's Guildhall School of Music & Drama (GSMD) where she was awarded a full three-year scholarship, and where she is now professor. She was taught by the late pedagogue Valentina Kameníkova, one of the most prominent pianists in former Czechoslovakia, and Eugene Indjic, a pupil of Arthur Rubinstein. While her pianism is anchored in the Eastern European tradition, her playing has been further refined and influenced by her studies with James Gibb and Paul Hamburger at GSMD; for the past 18 years she has lived in London.
Lada's performances have won several honours including two awards at the International Smetana Piano Competition, the Best Piano Duo (with Zoë Mather), and the Alexander Wise Memorial Prize for best performance of Romantic music. She earned recognition from artists such as Sir Georg Solti and Sir Charles Mackerras.
As both a solo and collaborative pianist, Lada plays across Europe and as far overseas as New Zealand. On her debut recital at Wigmore Hall in 2007 she was esteemed 'one of the most gifted accompanists of all' (Musical Opinion), and has subsequently perform a programme of Czech piano music in the same hall. UK appearances have included St. John's Smith Square, the Royal Opera House, Three Choirs Festival in Hereford, the Oxford Lieder Festival and the Warwick International Music Festival. She continues to appear in festivals and concerts in the Czech Republic in venues such as the Dvořák Hall in Prague, and at prestigious concert series such as the Czech Philharmonic Chamber Music Society.
She has made broadcast appearances on BBC Radio 3 and Classic FM, as well as a number of other European, New Zealand and US radio stations. Marking the 250th anniversary of Mozart's birth, Lada performed in Phil Grabsky's award-winning feature documentary 'In Search of Mozart,' to great critical acclaim.
Upcoming Concerts:
Lada Valešová | piano has no upcoming tour dates. Please check back soon.