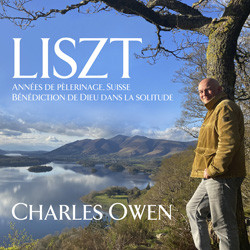 Summary:
"Accomplished with thorough and refined pianistic skill and a wholehearted identification with Liszt's message, Owen's music-making is powerfully compelling." – Editor's Choice, Gramophone
With his critically acclaimed AVIE Records releases of music by Johann Sebastian Bach, Johannes Brahms, Gabriel Fauré and Sergei Rachmaninov to his credit, the celebrated British pianist Charles Owen scales the heights of Franz Liszt's anthology Années de pèlerinage, Première année: Suisse ("Years of Travel, First Year: Switzerland"), which evokes the great 19th-century pianist-composer's Swiss sojourns with aural impressions of the Alpine landscape, its peaks and valleys, mountains and streams, and the country's distinctive folk music. Literary references abound as they do in the album's concluding piece, the emotional Bénédiction de Dieu dans la solitude ("The Blessing of God in Solitude") which was inspired by a poem penned by Liszt's friend Alphonse de Lamartine. Emotions ran equally high for Charles Owen who turned to Liszt during lockdown. The uncertainty of being homebound throughout the pandemic was eased by the extra meaning and solace of the composer's evocations of journeying, experiencing the natural world and its sense of beauty and liberation.
"I first encountered Franz Liszt's epic cycle of Swiss-inspired pieces through the revelatory recordings by Alfred Brendel. The stirring quality of Brendel's playing and Liszt's music struck a resonant chord in my fledgling teenage mind, initiating a desire to one day tackle the scores myself!
Liszt's extraordinarily powerful imagination was fired up by a wide range of visual, aural and literary experiences. The Alpine views he encountered on his journeys of the 1830s, the awe-inspiring mountains, fields, lakes and valleys all found exquisite musical depiction in his Années de pèlerinage, Suisse.
During the first Covid lockdown of spring 2020, I became especially drawn to this music for its evocation of the natural world, its sense of beauty and liberation. Against the background of an unexpected homebound existence, the imagery of journeying took on extra meaning in my mind. Together with Liszt's sublime 'Bénédiction de Dieu dans la solitude', these pieces became constant, valued companions during some very uncertain days.
The recording was made in the autumn of 2020 at my alma mater, the Yehudi Menuhin School, a unique musical enclave where many of my most formative artistic experiences and friendships began. The chosen piano was the school's brand-new Steinway Model D, an exceptionally resonant, colourful instrument ideal for Liszt's sonorities. The sessions finished on Halloween, at which point a lone bat emerged from the Menuhin Hall's high ceiling and whirled above the piano! An unexpected portent perhaps? Moments later the UK Prime Minister announced another lockdown."
Charles Owen, June 2021
Tracklist:
FRANZ LISZT (1811–1886)
1-9) Années de pèlerinage, Première année: Suisse S160
Chapelle de Guillaume Tell (5:32)
Au lac de Wallenstadt (3:50)
Pastorale (1:51)
Au bord d'une source (4:24)
Orage (4:39)
Vallée d'Obermann (14:30)
Eglogue (3:21)
Le mal du pays (Heimweh) (5:43)
Les cloches de Genève – Nocturne (6:13)
10) Bénédiction de Dieu dans la solitude
No. 3 from Harmonies Poétiques Et Religieuses G153 (17:32)
Charles Owen, piano
Recorded 29-31 October 2020, Menuhin Hall, Yehudi Menuhin School, Cobham, Surrey, UK
Piano – Steinway Model D
Producer & Editing –  Matthew Bennett
Sound engineer – Dave Rowell
Mastering – Will Brown