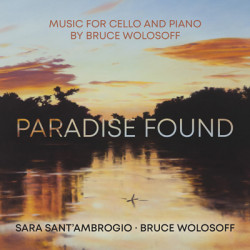 Summary:
"Bruce Wolosoff is a formidable pianist and composer … the performances are all excellent. Sara Sant'Ambrogio plays with warm tone and a natural feeling for Wolosoff's lyric style." – Gramophone

The distinguished New York-based composer-pianist Bruce Wolosoff synthesizes traditional tonal idioms with lifelong enthusiasms for jazz, blues, and rock music, creating a distinct musical language that speaks to the heart, but is unmistakably contemporary. His soaring, soulful melodies are strikingly suited to the cello, "in some ways my favourite instrument," admits Wolosoff, "after my own of course." For Paradise Found, Wolosoff reunites with Grammy Award-winning cellist Sara Sant'Ambrogio – the pair previously collaborated on Wolosoff's Cello Concerto, a Top 10 Billboard Classical chart hit – for the first recordings of his two Cello Sonatas, and two miniatures Circe and The Woods.
Paradise Found is indelibly inspired by the splendours of the natural world. The title track – Wolosoff's first cello sonata – was composed under the shadow of 2020's first COVID lockdown and serves as an affirmation of lasting beauty when the world was plunged into a very dark place. "In composing this piece," Wolosoff reveals, "I wanted to remind myself, and future listeners, that the world is still beautiful."
Wolosoff's second cello sonata, "Requiem for the Planet," is a musical response to climate change. With movements titled 'Song of the Earth,' 'Requiem Aeternum,' 'The Great Waters' and 'Epilogue: I have loved this world so dearly,' the work is a sort of musical requiem in sonata form. But it is not without hope. Wolosoff acknowledges, "It is my most fervent wish that this beautiful, ephemeral world will endure throughout my children's lifetimes."
The album concludes with two "encores" – Circe inspired by the sorceress in Homer's The Odyssey, and The Woods, after a drawing by Wolosoff's friend April Gornik, whose beautiful paintings adorn the album's booklet.
Tracklist:
BRUCE WOLOSOFF (b. 1955)
Cello Sonata No. 1: "Paradise Found"
1. I. Ecstatically (5:14)
2. II. Semplice (5:35)
3. III. Largo – Andante – Più moderato (6:32)
4. IV. Allegro (5:16)
Cello Sonata No. 2: "Requiem for the Planet"
5. I. Song of the Earth (6:34)
6. II. Requiem Aeternam (5:35)
7. III. The Great Waters (5:10)
8. IV. Epilogue: I have loved this world so dearly (3:39)
9. Circe (5:36)
10. "The Woods" (for April Gornik) (6:47)
Sara Sant'Ambrogio, cello
Bruce Wolosoff, piano
Recording: Oktaven Audio, Mount Vernon, New York, 22 & 23 July 2021
Publisher: Bruce Wolosoff Music (ASCAP)
Producer, Recording Engineer, Mixing & Mastering and Editing: Ryan Streber
Piano Technician: Dan Jessie